Alpha From Equal-Weighting: A Look At Energy
Through the first four versions of this article, I have shown that equal-weighting four separate sectors – consumer staples, healthcare, financials, and materials – would have meaningfully outperformed capitalization-weighting those same sectors over the trailing decade. This discussion is likely very valuable to some Unique Finance readers as $41B is allocated to those four sector funds following capitalization-weighting, and only $1.5B has been allocated to the equal-weighted funds that have meaningfully outperformed. Investors are attracted to sector tilts, but have not always taken that exposure in the form that would produce the best returns.
While equal-weighting has certainly produced higher returns across industries historically, there are always exceptions to the rule. If there were never exceptions, efficient markets would seek to capitalize on this premia and reduce its efficacy in forward periods. Understanding why capitalization-weighted industry tilts have produced higher returns in a minority of industries can help investors understand when these different weighting schemas are likely to outperform.
The graph below compares the equal-weighted versus capitalization-weighted energy index. The equal-weighted energy index is replicated by the Guggenheim S&P Equal Weight Energy ETF (NYSEARCA:RYE), and it is compared versus the return profile of the capitalization-weighted fund (NYSEARCA:XLE).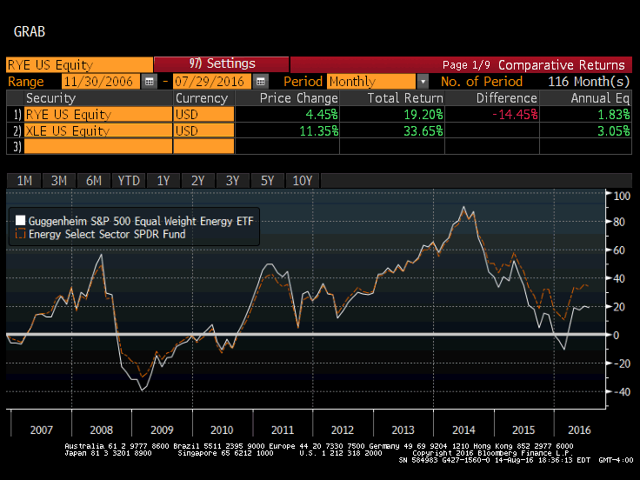 –
Source: Bloomberg; Standard and Poor's
The equal-weighted fund has trailed the capitalization-weighted fund by 122bp per year over the trailing decade. Through mid-2014, the equal and capitalization-weighted energy funds had posted mid-8% returns, besting the S&P 500 by about 2%. Equal-weighting had outperformed by about 0.2% per annum inclusive of its higher fees. The drawdown in oil prices towards the end of 2014 disproportionately impacted smaller firms, leaving the equal-weighted index trailing the capitalization-weighted index that is tilted towards the megacaps. Supermajors Exxon Mobil (NYSE:XOM) and Chevron (NYSE:CVX), which make up roughly one-third of the cap-weighted fund, have generated 5.4% and 8.2% annualized returns respectively over the trailing decade. These returns have been lackluster historically, but have bested the broader energy sector as the fortress balance sheets of these integrated E&P companies have helped them withstand the stress in the sector.
Historically, the size premia has generated structural alpha, but in the energy drawdown, smaller firms have been more acutely negatively impacted. The average market cap of constituents in XLE is $119B, but in RYE it is only $36B. A market cap of $119B is larger than ConocoPhillips (NYSE:COP) and Occidental Petroleum (NYSE:OXY) combined, a function of the healthy weights to Exxon Mobil ($364B market cap) and Chevron ($193B). Comparatively, the average size of the equal-weight index is more in-line with Anadarko Petroleum (NYSE:APC), which has generated only 2.5% returns over the past decade.
The equal-weighted index has had more exposure to the beaten-down oilfield services subsector. The ten smallest constituents in the Energy sector, which would have the largest weighting differentials between equal-weighting and cap-weighting, include offshore drillers Rowan (NYSE:RDC) and Noble Corp (NYSE:NE), which have produced a 10-year average annualized return of -7% and -11% respectively. The bottom ten also included embattled coal and natural gas producer CONSOL Energy (CNX; -6% trailing 10 years).
Returns for the smallest constituents were helped by the acquisition of Sunoco Inc by Energy Transfer Partners (NYSE:ETP), Smith International by Schlumberger (NYSE:SLB) in 2010, BJ Services by Baker Hughes (NYSE:BHI) in 2010, and El Paso LLC by Kinder Morgan (NYSE:KMI) in 2012. Mergers and acquisitions have not been robust enough to offset the downturn of smaller firms at this point in the cycle. The reshaping of the North American energy landscape should prompt additional M&A as companies become more comfortable in the new price regime, which could boost the equal-weighted constituents at the expense of the larger capitalization-weighted constituents.
The financial sector, the other industry laggard over this time period, saw higher returns from equal-weighting as the megacaps have been hamstrung by new regulations post-crisis. Higher weights towards REITs in the equal-weighted index also boosted performance, but higher weights towards oilfield services companies in the energy subsector has detracted from performance. The equal-weighted index also had a relatively higher proportion of independent E&P companies that lacked the refining capacity to buffer some of the cyclicality in the industry downturn.
If you are expecting energy prices to move higher, then you may be incentivized to utilize the equal-weighted fund over the capitalization-weighted fund as the more levered producers with higher weights in the equal-weighted strategy would outperform in a recovery. That was certainly the case in 2009 (graphed below) when the equal-weighted energy sector produced a 44% total return, more than doubling the performance of the cap-weighted sector index.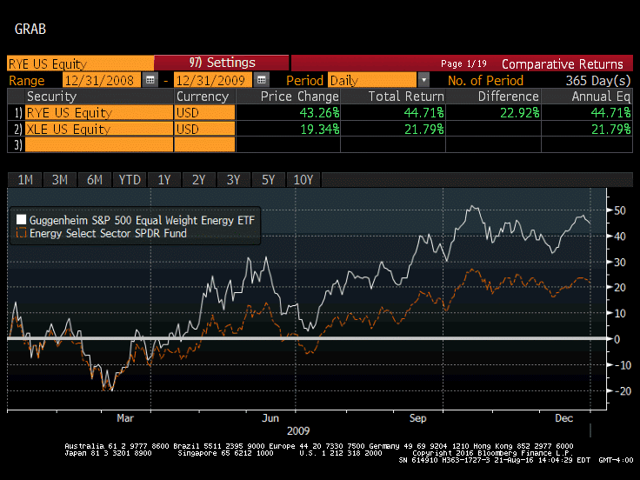 –
Since oil troughed on February 11th, the equal-weighted index has returned more than 50% while the cap-weighted index has returned 32%. Currently, $14B is allocated to the cap-weighted fund, but just $220M is allocated to the equal-weighted energy fund.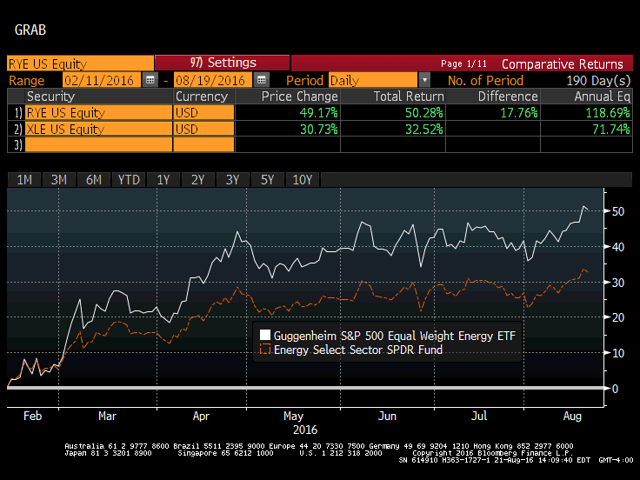 –
Equal-weighting has been more likely to outperform on an industry-basis historically, but the underperformance of energy in this weighting scheme provides an interesting test case. The expected outperformance from equal-weighting carried through mid-2014, but was erased by the market correction. As oil has rebounded off the lows, equal-weighting has recently outperformed again.
We have now seen relative outperformance of equal-weighting in the consumer staples, healthcare, financials, and materials space over the trailing decade and underperformance in energy. Future articles will examine equal-weighting versus capitalization-weighting in the other four sectors.
Disclaimer: My articles may contain statements and projections that are forward-looking in nature, and therefore, inherently subject to numerous risks, uncertainties, and assumptions. While my articles focus on generating long-term risk-adjusted returns, investment decisions necessarily involve the risk of loss of principal. Individual investor circumstances vary significantly, and information gleaned from my articles should be applied to your own unique investment situation, objectives, risk tolerance, and investment horizon.
Disclosure: I am/we are long SPY, RSP.
I wrote this article myself, and it expresses my own opinions. I am not receiving compensation for it (other than from Unique Finance). I have no business relationship with any company whose stock is mentioned in this article.