An Update On The Philippines And The iShares Philippines ETF
The iShares Philippines (NYSEARCA:EPHE) has been on a rapid rise since the landslide election victory of President Rodrigo Duterte on May 9, 2016. The EPHE is up 17.39% year to date.
When I last wrote on Unique Finance "Invest in the Philippines – Buy the iShares MSCI Philippines ETF", back in November 2015, the PSEi was at 6,932, and today it is 7,931. A tidy 14.4% return over 10 months. The PE last November was 19.88, and today it is 22.10, consistent with strong corporate earnings and a strong economy, growing at 7.0%pa.
The Philippines has a population of 102,453,377, a median age of just 24.4 years, with 44.9 % of the population living in urban areas.
PSEi 1 year graph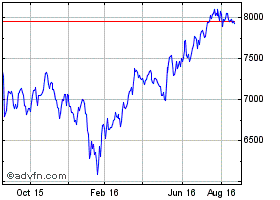 Source
EPHE 5 year graph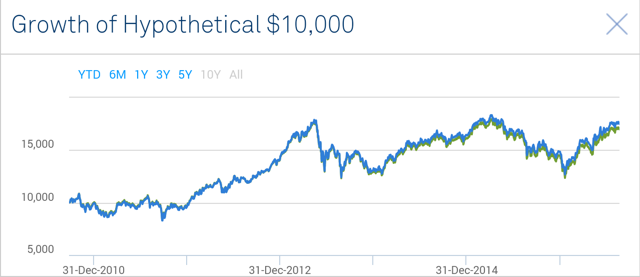 –
Source
Philippines current metrics and economy
| | | | |
| --- | --- | --- | --- |
| GDP | 7.0% | Currency (PHP/USD) | 46.39 |
| Unemployment rate | 6.1% | PSEi | 7,931 |
| Inflation rate | 1.9% | 10 year Gov. bond | 3.33% |
| BSP rate | 3.0% | Gov. debt/GDP | 45.05% |
| Balance of trade(May) ($US) | -2.02b | Nominal average wage | 8,280 PHP/month |
Source
The Philippines is the world's largest center for business process outsourcing (BPO). The country also has a strong industrial sector based on the manufacturing of electronics and other high tech components for overseas corporations. The Philippines is rich in natural resources; it has significant reserves of chromite, nickel, copper, coal and oil.
Overall a faster increase in the services sector, a rebound in the agricultural sector, and some pre-election spending, offset a slowdown in the industrial sector.
The main two drivers of the Philippines economy (Overseas Foreign Workers (OFW) remittances, and BPO, in the "services sector" are still performing strongly. OFW remittances are grew 4.6%pa, contributing $25.76b in 2015. The BPO sector is growing more rapidly at around 15%pa, contributing $22b in 2015, and employing over 1.2m people. With traditional strengths in call centers, the industry is expanding into higher value-added voice services, as well as into IT and business processes in the medical or health care, legal, financial, insurance, and other specialized fields. Overall, the combination of OFW remittances plus BPO revenues is expected to reach USD 51b in 2016. OFW remittances may grow less slowly (especially with cheap oil affecting the Middle East), however BPO is expected to grow at an average of 15% pa for the next 4 years, according to Moody's forecasts.
BPO workers in Makati Manila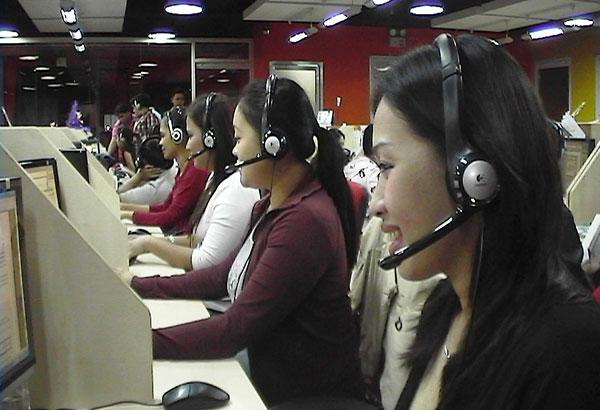 Source
On the negative side, the main concern is the balance of trade having dropped from a USD 0.065b surplus in May 2015, to a USD 2.02b deficit in May 2016. The main cause of this was the China slowdown and the mining sector (other mineral products (-43.8 percent)).
The other long term concern remains – low wages and high youth unemployment. Wages in the Philippines are way too low at a mere PHP 8,280 (USD 178) a month. This is a national average with wages being considerably higher in Manila where the minimum (not always enforced) wage is PHP 491 (USD 10.58) per day. Youth unemployment is estimated at 14.4%, which is not surprising considering the low wages and 1 in 5 households receive OFW money from abroad.
Philippines GDP 2013-2016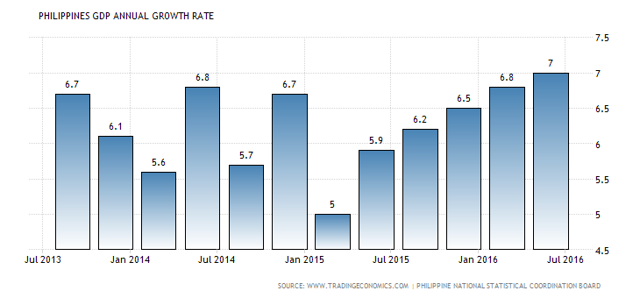 –
Source
President Duterte – What to expect
President Duterte is a man of his word, a man of action, and a man of the people.
President Duterte leads with an iron fist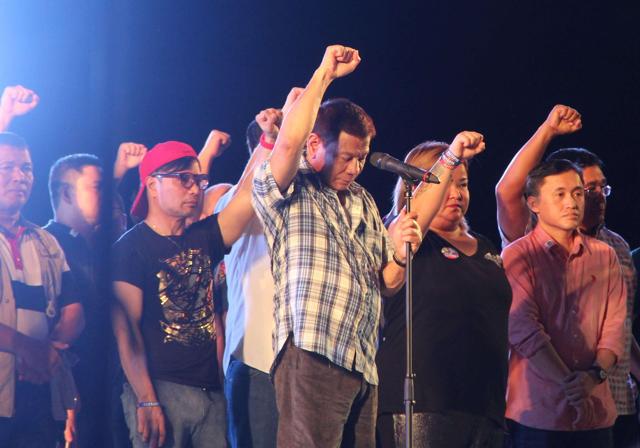 –
Source
President Duterte's top 5 policies are:
Remove crime and corruption – especially the drug dealers. Where necessary, criminals are executed on the spot.
Install discipline – curfews for minors, noise and liquor bans late at night, smoking banned from public places.
Government and politics – Move to a more parliamentary approach, and give more power to regional governments. Remove bureaucracy, simplify and fast track Government processing for things such as business permits. Try to solve the southern Mindanao problems with radical groups, and negotiate with China regarding the West Philippine (South China) Sea dispute.
Economy – Continue with similar macro-economic policies. Mining is to be overhauled to make sure the environment is protected.
Accelerate annual infrastructure spending to account for 5% of GDP, with Public-Private Partnerships playing a key role. – See more here.
6 month work contracts to be abolished.
Accelerate annual infrastructure spending to account for 5% of GDP, – See more here.

Accelerate annual infrastructure spending to account for 5% of GDP, – See more here.
More effective tax collection, and increase infrastructure spending to 5% of GDP. You can read more here.

Bring equality to the people through greater employment and upskilling. Includes a social net to help those in desperate need.
In summary, President Duterte is a "people's president". He is tough, strict, and uncompromising to criminals. His record as Mayor of Davao for two decades is what got him elected.
Will this benefit the economy and the Philippines property and stock markets? For now, it is too early to tell. However, whenever one applies the basic strong principals of discipline and hard work then reward usually follows.
President Duterte is an intelligent man, a lawyer by profession. He cares deeply for the average Filipino. Many hope that President Duterte can lead them out of poverty and to a better life. Those that go against this and prefer to sell drugs and do serious crimes, will be dealt with swiftly.
Where to now
Given the billions that were previously corrupted away by corrupt politicians and government workers, if President Duterte is successful in reducing or stopping this, then there should be plenty of government funds coming available over the next 6 years. A lot of this will go to improving the nations infrastructure, which has been neglected for years. This should lead to huge road works, rail works, airport upgrades, hospital and school upgrades.
Before Duterte the Philippines success was due to private enterprise, especially the OFWs and the BPO workers. If the government of the Philippines can finally become a help rather than a hindrance, then the Philippines should be able to continue growing in excess of 7% pa, with booming infrastructure and property markets. Minimum wages will rise to help bring back some much needed equality.
For decades the people have tolerated corrupt officials, overcrowded public transport, bad traffic, pollution, and crime. Is it no wonder "dirty harry" Duterte was elected in a landslide victory. Today in the Philippines, there is enormous hope that the poor can rise and join the middle class. With this rise I expect a growing stockmarket and property market.
iShares Philippines
EPHE top ten holdings
–
As you can see from the chart above the major Philippine conglomerates dominate in particular Ayala (OTCPK:AYALY), GT Capital (GTCAP) and SM (OTC:SPHXF). Each has well diversified businesses, substantial land banks, property development, shopping centers or corporate centers, and in the case of Ayala they also own a majority stake in BPI bank (OTCPK:BPHLY), and GT owns 25.4% of Metrobank.
Risks for EPHE
Relationship with China may deteriorate. Approximately 25% of Philippines exports go to China, hence the balance of trade has been negative the past 14 consecutive months. This has been largely offset by the stellar performance of the services industry, and consumer spending.
President Duterte's tough style may lead to some civil unrest or backlashes from opposition groups. Currently this is looking unlikely as Duterte wants to bring employment and wealth to the poorest regions.
Mining industry is a drag. Currently this sector is facing shutdowns until they strictly follow the environment laws. In the short term this is a negative, but should be a long term positive once corrected.
Any assassination attempts on President Duterte.
The PSEi has rallied hard since the Duterte election victory and now trades on a PE of 22.1. I see a short term consolidation as most likely, and then a resuming uptrend.
Conclusion
The Philippines still has many problems, however it appears the people elected the right man to fix them. Judging by the first few weeks it appears President Duterte will stick with his promises. Criminals are being taken out daily, corrupt officials are surrendering or facing trial. Corrupt judges will be executed.
It definitely is the wild west in the Philippines right now, but it is needed to fix the inadequacies of past leaders who did nothing but steal from the people, and allow crime and corruption. Judges were corrupt, Mayors were drug lords, and so on. Living part time here in Manila I can see change on the streets already. Squatters are being removed, and law and order is being enforced, as I have witnessed first hand a drug lord being taken out.
The stockmarket has reacted positively to the Duterte win, which bodes well for the next 6 years. The weak area of the economy (mining) is being addressed, and I expect soon President Duterte will move to correct the pollution and infrastructure problems. It is hoped that with less corruption, more Government money will flow to address infrastructure needs, thereby boosting the economy.
I remain positive on the PSEi and the EPHE, however at current valuations I would only be a buyer after a pullback (where the PE ratio fell below 20 as a guide).
The Philippines has been held back by corrupt leaders for half a century, but finally a true leader has emerged from the people. Unconnected politically, with a great care for the people, this could be a game changer for the people of the Philippines. This assumes President Duterte can continue to clean up the problems, and grow the economy, lifting wages substantially and allowing a large middle class to form. Right now the Philippines has a lot of catching up to do. Wages are pathetic, and property prices in the capital cities are too high for average workers.
By this time next year President Duterte may well have had a huge impact on the people and that will flow through to the economy, and in time the stock market. Until then I view EPHE as a hold, or buy on the dips.
As usual all comments are welcome.
Disclosure: I/we have no positions in any stocks mentioned, and no plans to initiate any positions within the next 72 hours.
I wrote this article myself, and it expresses my own opinions. I am not receiving compensation for it (other than from Unique Finance). I have no business relationship with any company whose stock is mentioned in this article.
Additional disclosure: The information in this article is general in nature and should not be relied upon as personal financial advice.
Editor's Note: This article covers one or more stocks trading at less than $1 per share and/or with less than a $100 million market cap. Please be aware of the risks associated with these stocks.