Australian Banks Revisited: A Good Moment To Increase The Short
In May 25 we published an article on Australian banks: "Australian banks: On thin Ice." Our thesis was:
•In early 2016, Australia is at the door of a potentially catastrophic crisis: after more than 20 years of growth, the country is likely to suffer a deep recession.
•In a similar fashion to the Spanish slowdown of 2008, this crisis is likely to have a serious impact on the banking system.
•Australian banks are profitable and well capitalized, but the conditions that they will have to face are extreme. Australian banks' stock prices should go far lower during 2016 and 2017.
Uncertain technical evolution driven by China
During last three months, Australian bank stock prices had a mixed evolution, with Commonwealth Bank of Australia (OTCPK:CBAUF), National Bank of Australia (OTCPK:NABZY) and Westpac (NYSE:WBK) taking moderate falls (-6.3% for CBA, -0.66% for NBA and -1.38% for Westpac) and ANZ increasing its share value 5.54% during the period.
The whole banks sector has underperformed Australia's ASX 200, which during the same period increased 2.87%.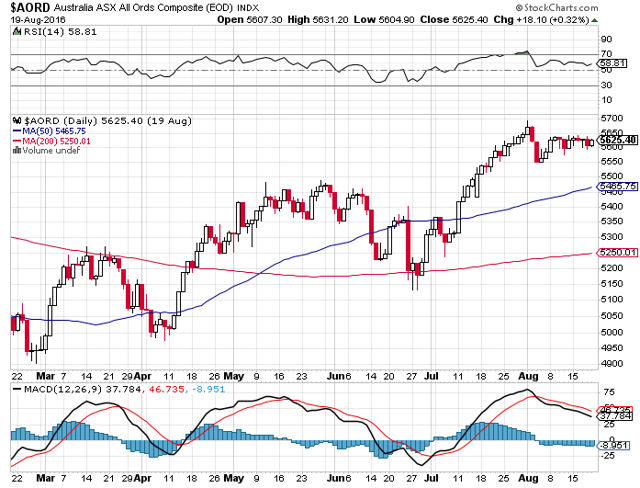 –
What happened?
Technically Australian banks and Australian general index have bounced back together with East Asian financial markets during the quarter, driven by the (temporary) exhaustion of the downside midterm movement backed by the deceleration of the Chinese economy.
Fundamentally, certain short-term data and producer price expectations for the Chinese economy have mildly improved. Some analysts, such as Haibin Zhu, chief China economist at JPMorgan Chase, and Jason Bedford at UBS Hong Kong, shared during the month more optimistic views on the most recently published Chinese macro data and the evolution of the banks recapitalization.
Nevertheless, there is nothing fundamental that makes us think the Chinese economy is rebalancing: it looks like the low-mid quality intensive exports model of development in China is exhausted.
As a consequence, a massive overhang of fixed capital investments over 20 years funded by controlled state banks to increase the industrial might of the country and give employment to the population migrating from the countryside must end in a quick drop of investment and GDP when rates of return become negative (too much negative in the Chinese case in which a very important part of investment answers to political direction).
The long-expected by China bulls rebalancing from exports to internal consumption looks like wishful thinking: such a radical change would demand a very significant increase in the population's purchasing power at the expense of the new economic elite in the country through a still to be identified wealth transfer device which should be designed by the political elite and implemented by the Chinese Administration.
This is showing to be an impossible task in more developed countries such as Germany, South Korea or Japan, where the curse of exporters already is biting the demography and, as a consequence, damaging its future economic and political power.
Given this situation it is reasonable to think that China with its developing market style legal, administrative, political and social structures would find such a change very difficult to achieve indeed, if possible at all in the mid-term.
Furthermore, even if a wealth redistribution of major proportions was accomplished in a short period of time the productive sector would have serious problems in switching production from exports-driven manufacturing to internal consumption goods and services. The outcome in the short term of such a wide redistribution of wealth and market demand would likely be a surge in inflation, a banking crisis and a worsening of the foreign exchange balances of the country.
Thus, nothing seems to have changed in the Chinese economy and any further "stimulus package" should only slow the transition of what cannot, in our view, be avoided: a fall of Chinese GDP growth from current 7% to 0% and to negative numbers during the next 3 – 5 years.
The pressure on the political system of increasing unemployment generated by a GDP fall of this size should create an irresistible need to devalue the yuan (see Eichengreen "Renminbi internationalization: Achievements, prospects and challenges"). This would generate a global market shock, probably temporarily in the US, certainly permanently in Asia and the excuse for further falls in European banks and stock indexes.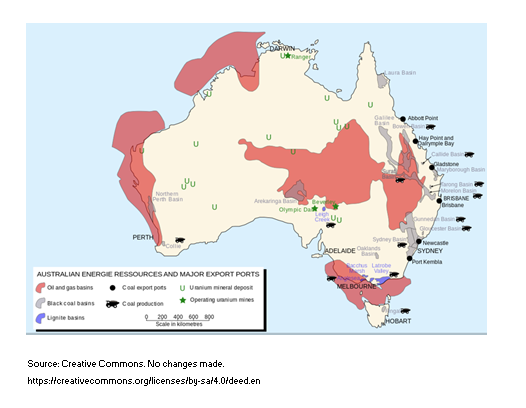 Australian economy
On August 2nd the RBA (Reserve Bank of Australia) cut interest rates to a minimum of 1.5 percent in order to stimulate the economy.
The official goal is to fuel inflation and help on the transition of the economy from a commodities producer to a more equilibrated manufacturing and services one.
The real goal is more likely to continue inflating the real estate bubble and generate a wealth effect that keeps private consumption high while wide sectors of activity – particularly business investment – are experiencing large declines. This should give time to the Australian economy to rebalance toward a more services and industry based economic model and avoid a major economic slowdown caused by China's deceleration.
Nevertheless, as in the case of China described above, this looks like wishful thinking: lower interest rates and the prospect of a Quantitative Easing program later on may sustain the real estate market overpriced for a while, but will only increase the imbalances the Australian economy has been building over the last 20 years: sooner rather than later prices will fall and QE will show its limits, determined by the extent of the devaluation of the Australian dollar which will make foreign currency liabilities burdensome to corporations and households.
In Minskyan terms, the moment in which leveraged cash flow payment promises across the economy will be deemed untrue to a big extent by economic and financial operators might be approaching.
Thus, it seems there is not enough time for a wide rebalancing of economic activity. And like in China, in case such a thing was possible a recession – with its impact on banks stock prices – will be unavoidable.
Overall key components of the Australian economy – business investment – area are already in a recession, caused by the worsening of Australia's Terms of Trade due to the fall in commodities demand from China. Private consumption sustained by a huge real estate bubble is keeping the economy stable, but this state of affairs will not last for long.
The impact of dynamics described above on banks and banks stock prices in Australia over the next three years should be strongly negative.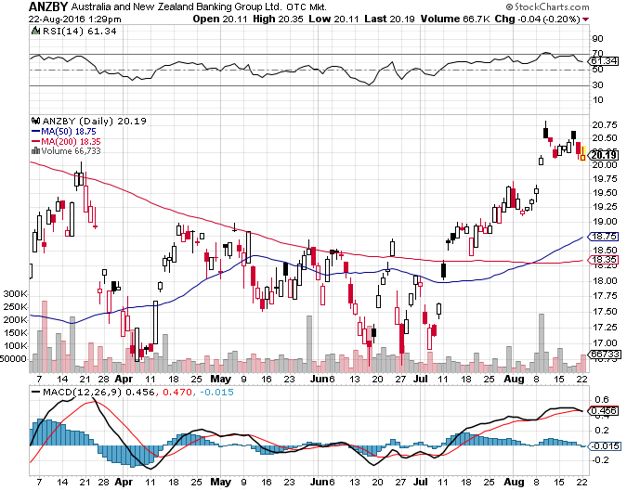 –
Corollary: a good moment to increase the short
A more challenging operating environment for Australian banks based on the somber assessment of the national economy is likely in 2016, 2017 and beyond, driven by increasing unemployment, high private debt and a low interest rates environment to keep the economy afloat.
In terms of pricing, Australian banks are still – and increasingly so – some of the most expensive in the world by book value (2.08 times for CBA, 1.51 for National Bank of Australia, 1.74 for Westpac and 1.37 times for ANZ). This reflects the extraordinary ROE of the Australian banking system, fuelled by the real estate bubble and the general high leverage of the whole economy.
Given the high return on equity, in terms of PE (price earnings) Australian banks compare well with Wells Fargo (NYSE:WFC) (PE 11.95), US Bancorp (NYSE:USB) (PE 13.7) or PNC (NYSE:PNC) (PE 12 times).
But beware, the situation of Australian banks – overleveraged, at the top of the cycle and with a high degree of financial fragility – is the opposite to that of big US commercial lenders – characterized by a resilient balance sheet after having purged the crisis and at the low- to mid-level of a rising business cycle.
Summarizing: Given the strongly negative outlook for the Australian economy driven by the Chinese slowdown and the high stock prices at which Australian banks CBA, NBA, ANZ and Westpac are quoted, it seems to be an excellent moment to increase the shorts on these stocks. That will likely be a very profitable investment strategy for a bank investor on a three-year horizon.
Disclosure: I/we have no positions in any stocks mentioned, and no plans to initiate any positions within the next 72 hours.
I wrote this article myself, and it expresses my own opinions. I am not receiving compensation for it (other than from Unique Finance). I have no business relationship with any company whose stock is mentioned in this article.
Editor's Note: This article discusses one or more securities that do not trade on a major U.S. exchange. Please be aware of the risks associated with these stocks.