BUI: Take Profits Off The Table
As I wrote on my last article, 2015 marked the year when I became significantly more concerned about valuations not only in the equity markets, but mainstream publicly traded securities as a whole. I became concerned enough to start searching for values both in private equity and non-traded securities. One other place that became attractive was closed end fund investing.
For the most part, our (personal and client) exposure to CEFs was through UITs, unit investment trust investing (think original ETFs). For income investors, you can get a basket of income closed end funds in one basket, for one ticket charge. What happened late last year though was that CEF discounts to NAV opened up so much that in light of sky high valuations in equity markets, CEFs became attractive for the majority of investors.
The very first CEF article I wrote for Unique Finance was about the BlackRock Utility and Infrastructure Fund, (NYSE:BUI) titled: BUI: Thrown Out With The Bathwater?
In it, I described why I was so interested in the fund along with the investment thesis for it…
BUI is an investment in one of my favorite asset classes (utilities and infrastructure), utilizing one of my favorite investment strategies (covered call writing), in one of my favorite investment fund structures (closed end fund). Unfortunately, since inception, it has been at best a mediocre investment, in particular over the last 12 months. Is the fund a bad fund? Or has the baby been thrown out with the bathwater?
Source: BUI: Thrown Out With The Bathwater?
Today we are going to attempt to answer that question.
Performance
Since our last article on December 29th, 2015, the fund has been amongst the best performers by rewarding investors with a 24.91% total return.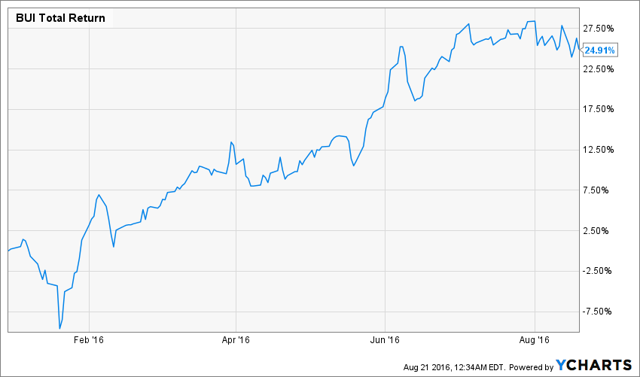 –
In fact, BUI has outperformed BOTH the S&P 500 etf (NYSEARCA:SPY) and the iShares Bond etf (NYSEARCA:TLT).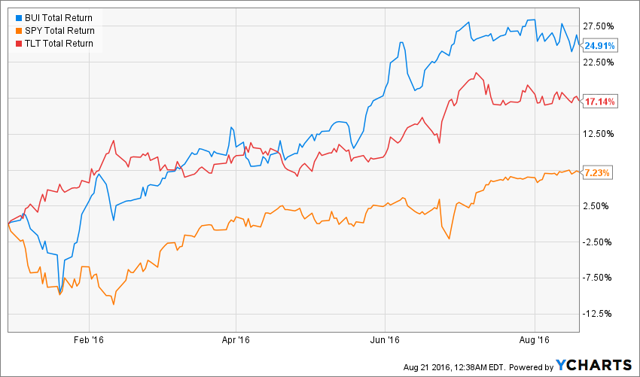 –
Just like the BlackRock Muni CEF that we covered a few days ago, this equity-income CEF more than tripled the S&P 500 index. Unique Finance? Absolutely.
What's Changed?
Perhaps the biggest change with the fund is that it is no longer trading at significant discounts.
At the time of writing our last article, the fund was trading at a 13.24% discount to Net Asset Value. Today, that discount is a mere 3.03% today.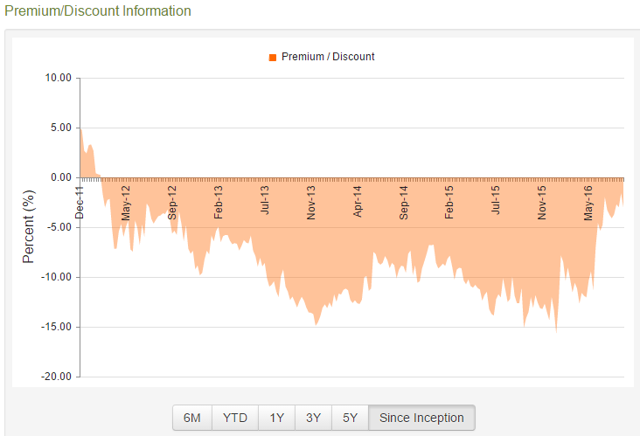 –
Source: CEF Connect
As you can see, the discount has closed to near all time lows.
The other change that resulted because of increase in price is the distribution rate fell a bit. What was an 8% distribution is now 7.32%.
Key Drivers
Two big drivers are responsible for the performance of the fund.
First, the underlying category has performed well over the last year or so. Utilities are up 16% year to date, along with the US Treasuries.
Secondly, much like other closed end funds, BUI has benefited from the increased flow into the higher yielding assets in the overall search for yield.
We can see that in the two charts below.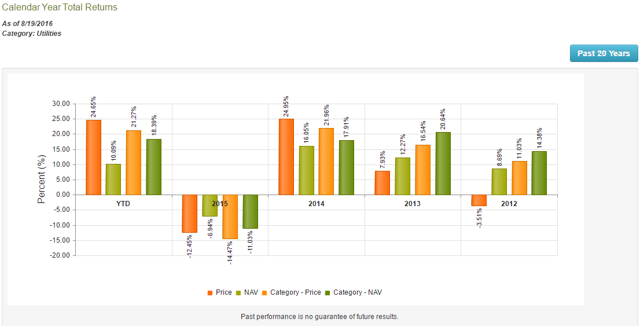 –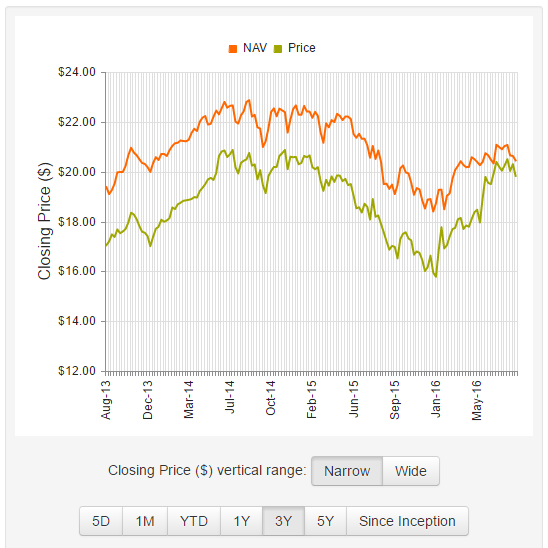 Source: CEF Connect
As you can see year to date, the market price returned more than twice as much as the NAV. This should not be surprising as every year since inception there is a sizeable disconnect between the two. In 2012, 2013 and 2015 the Market Price has significantly lagged the NAV. It is therefore no surprise that that disconnect would be resolved much like before.
Investors who listened to our advice in December and bought the fund for the outsized discount would be well rewarded.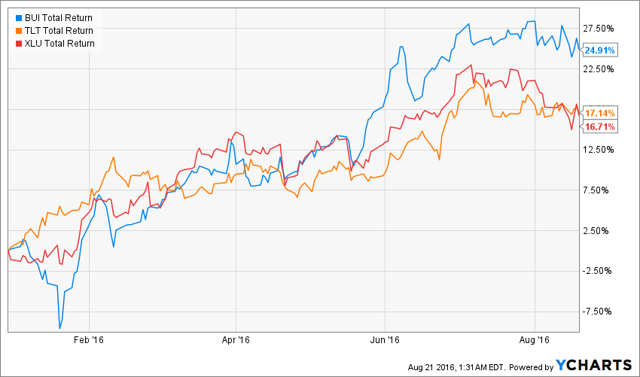 –
Our Take & Bottom Line
For a more complete review please read my original article on this fund here.
As I stated earlier, a large part of the original premise was that this is a good fund that was oversold in the short term which offered a fairly safe strategy and a great income for you to hold it.
With the sizeable gains in utilities and the flows into this fund, it would be almost irresponsible not to lock in those gains.
While the income generated by the fund is great, with the average weighted PE over 21 and what I feel is a current top in energy prices, I am not comfortable holding utilities at this point.
Furthermore, while 30% of the portfolio has covered call options written on it providing some downside protection, the 3% discount to NAV is too little for me to own comfortably.
If you are looking for Utility and Infrastructure funds, there are other CEFs out there still trading at sizeable discounts. If you are an income investor, it may be time to look at other equity and bond funds.
For us, it's time to ring the register.
As always, we will continue to track and discuss this fund for future entry points.
Until the next update, keep doing your due diligence. For more reading, please look at my prior CEF Articles such as Nuveen Build America Opp Fund: Make America And Your Portfolio Great Again.
Please feel free to reach out to me via direct message if you would like to chat more about this or any other topic.
Final Note: I hope you found this article helpful. I am a believer in active management that works and I am here to help you find those opportunities. Please follow me here on Unique Finance as we look for those opportunities and sort out the good managers from the mediocre.
Simply click the "Follow" button below if it appears for you, or click "Follow" next to my name at the top of the article. Alternatively, you can click the orange "Follow" button from my profile page.
THANK YOU for reading and commenting.
Disclosure: I/we have no positions in any stocks mentioned, and no plans to initiate any positions within the next 72 hours.
I wrote this article myself, and it expresses my own opinions. I am not receiving compensation for it (other than from Unique Finance). I have no business relationship with any company whose stock is mentioned in this article.
Additional disclosure: Maks Financial Services is a registered investment advisor and our Form ADV Part 2 is available upon request. We certify that the opinions and predictions in these articles are our professional beliefs at the time of publication and should not be construed as personal investment advice. Please consult your financial professional to see how anything discussed here applies to you. Furthermore this is not a solicitation to buy or sell any securities. This is not Tax Advice. Please consult your tax professional.