Can The Brazilian Rally Continue?
The Brazilian stock market has experienced an impressive run. The iShares MSCI Brazil Capped ETF (NYSEARCA:EWZ) is up by 67% year-to-date, which is far better performance when compared to its emerging markets peers, not to mention the developed share markets. The iShares MSCI Emerging Markets ETF (NYSEARCA:EEM) is up by 17%, the VanEck Vectors Russia ETF (NYSEARCA:RSX) is up by 27%, the iShares MSCI China ETF (NYSEARCA:MCHI) is up by 6.16%, the iShares MSCI India Index ETF (BATS:INDA) is up by 7.16% and the SPDR S&P 500 Trust ETF (NYSEARCA:SPY) is up by 7.2% year-to-date. EWZ has generated great returns for investors that were lucky enough to purchase it sometimes in late 2015 or early 2016. EWZ share price bottomed on January 21, when it traded at $17.33. As it has rebounded by more than 100%, it is a good time to question whether the rally can continue.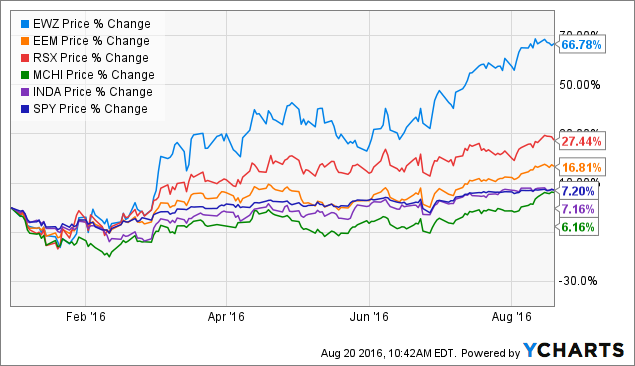 The rally has been supported by several factors. The global stock markets did very well, as shown by the chart above. Moreover commodity prices recovered notably which is important for the Brazilian commodity oriented economy. Oil price is up by approximately 25% year-to-date, iron ore, nickel and gold prices grew by 60%, 20% and 28% respectively and orange juice is up by 25% year-to-date. Also the global stock markets did very well. S&P 500 recorded 6.85% gains while German DAX and British FTSE 100 are up by 2.54% and 9.88% respectively.
It is also important to mention the Rio factor. The summer Olympics that took place in Rio de Janeiro drew attention to Brazil and supported the optimism of investors. Also the political situation in Brazil experienced some significant changes that were positively welcomed by investors. President Rousseff has been temporarily replaced by her vice-president Michel Temer. Temer is expected to make some market-oriented reforms and kick-start the sick Brazilian economy that has been in a deep recession for the last 2 years.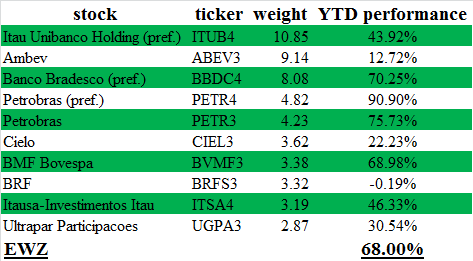 Source: own processing, using data of Bloomberg iShares.com
The recent rally impacted various segments of the Brazilian share market. The table above shows the year-to-date performance of the 10 biggest EWZ holdings that represent 53.5% of its portfolio. All of the 10 companies, except of BRF (OTC:BRFFF), experienced very high returns. BRF declined by 0.19%, i.e. it remained almost unchanged. EWZ itself is up by 68%. But there are several reasons why investors should start to be more cautious:
1. The economic situation is still bad. Although the inflation rate declined to 8.84% year-over-year, the economy is in a deep recession (chart below). It is forecasted that the Brazilian GDP should start to grow in 2017 but the projection can be revised down quickly, if commodity prices start to decline again or if the political situation starts to get more complicated. Another problem is the huge government budget deficit. In 2015, the primary deficit climbed to $27.29 billion (1.88% of GDP) and deficit including interest payments reached $150.36 billion (10.34% of GDP). In 2016, the primary deficit is expected at $45.9 billion (2.65% of GDP) and in 2017, it should reach $41 billion. It means that in 2016 as well as in 2017, total government budget deficit of more than 10% of GDP is expected. The government debt should climb to the 80% of GDP level by the end of 2017, which is a terrible track record, compared to the 2013 level of 51.69% of GDP. Drastic and unpopular measures will be needed to get the government budget deficits and the rapidly growing government debt under control. Such measures can result into social unrests in a country like Brazil, where tens of millions of people live on or even below the poverty line.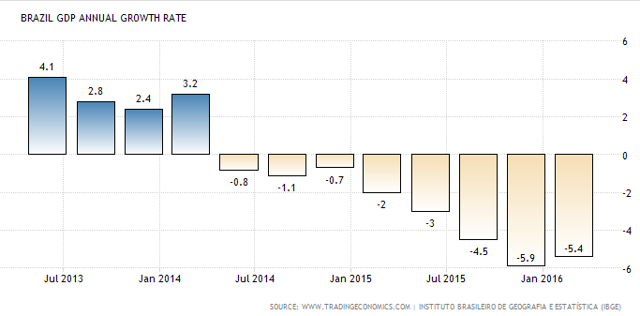 –
2. The Olympics are over, time to count the losses. A part of EWZ's great performance over the recent months can be attributed also to the optimism related to the summer Olympics. But as the Olympics ended, some disillusionment should be expected. Most of the recent Olympic games generated huge losses or only some limited profits. For example Sydney 2000 generated net loss of $2.9 billion and Vancouver 2010 generated loss of $515 million. Athens 2004 generated an undisclosed loss. On the other hand London 2012 and Sochi 2014 recorded profits of $91 million and $54 million respectively. Given that the London Olympics that took place in a safer and far wealthier part of the World and were not endangered by the Zica virus or the out of control criminality were able to generate only a negligible profit (although the profit is questionable), it is highly probable that the Rio Olympics generated a meaningful loss (it is estimated at $4.6 billion). A month ago, more than 60% of Brazilians expected that the country will be negatively impacted by the Olympics. The numbers most probably won't be positive (unless some very creative accounting methods are applied) and their release can damage the investor's mood.
3. Problems in China can drag Brazilian markets down. The Chinese stock market has stabilized over the last 12 months. But if it starts to be as volatile as last summer, the global stock markets will start to fall hard, as we could see in July and August of 2015. The Chinese GDP growth rate keeps on declining. If this trend persists, the Brazilian economy will be impacted negatively, as China is one of its most important trade partners. In 2015, more than 18% of Brazilian exports were attributable to China.
4. The U.S. stock markets are at record highs, the correction can be painful. The U.S. stock markets are at record highs, supported by the highly expansive monetary policy. Any change in the monetary policy can trigger a significant correction that will impact stock markets around the World, the Brazilian stock market included. There are two events that may initiate the decline. The first one are the U.S. presidential elections and the second one is a prospective interest rate hike. The U.S. presidential elections will take place on November 8. Although it is hard to predict who will win and which one of the candidates would be better for the financial markets (the historical data show that the stock markets tend to do better during democratic presidents tenures), the atmosphere seems to be pretty tense. If there is a prolonged time period of uncertainty, the stock markets can react very violently. Also the abovementioned interest rate hike can have a destructive impact on the stock market, although it is unknown whether it will take place this year, in 2017 or later. The FED still indicates that it intends to tighten its monetary policy. But the economic indicators are mixed at best. It is expected, that another interest rate hike may take place in December.
5. An explosive political situation in Brazil. Rousseff will be probably definitely ousted this week. And Michel Temer should become president for the rest of this term (by the end of 2018). Temer seems to be well accepted by the financial markets but he has a skeleton or two in the closet too. Some members of his PMDB party are being investigated due to their involvement in the Petrobras (NYSE:PBR) corruption scandal. There exists the possibility that Temer will be investigated as well. Moreover president Rousseff doesn't want to surrender so easily. Rousseff repeatedly declared that her impeachment is only a kind of a coup and she also calls for early presidential elections in order to re-unite the divided country. Some of the foreign observers share Rousseff's opinion regarding the coup, as it seems that one of the key supporters of the impeachment process wanted to get rid of Rousseff only to avoid his own investigation. The situation is pretty complicated and it won't be easy for Temer to win people's trust. It is also hard to say how Rousseff's supporters will react on her definitive ousting. Civil unrests can't be completely excluded.
Conclusion
EWZ recorded some impressive gains over the last 8 months. It is possible that the bull run will continue but there are some serious risks that investors should take into account. The Brazilian economic situation is still bad, the political situation is very complicated and some unexpected events can emerge anytime. The Olympics are over and it's time to start counting the losses. The Chinese economic woes are still not over and if the situation in China worsens, Brazil will be affected as well. The U.S. stock markets are at record highs and the U.S. presidential elections as well as the prospective interest rate hike can trigger a strong market correction. It is possible that EWZ will keep on growing in the coming months but the risk-reward ratio doesn't seem too favorable anymore.
Disclosure: I/we have no positions in any stocks mentioned, and no plans to initiate any positions within the next 72 hours.
I wrote this article myself, and it expresses my own opinions. I am not receiving compensation for it (other than from Unique Finance). I have no business relationship with any company whose stock is mentioned in this article.
Editor's Note: This article discusses one or more securities that do not trade on a major U.S. exchange. Please be aware of the risks associated with these stocks.