Correction Corp. Of America: 'Correction' To $22 Ahead
By Parke Shall
Correctional facility stock Correction Corp. of America (NYSE:CXW) was decimated yesterday afternoon, down more than 50% at one point, as it was announced that the Department of Justice (DOJ) had plans to move out of the privatized prison space. InvestorPlace.com reported,
Publicly traded prison stocks The GEO Group Inc (NYSE:GEO) and Corrections Corp. Of America (CXW)) were off around 40% each amid a Washington Post report saying the Justice Department will phase out its use of private prisons.

Source: Flickr

Effective immediately, DoJ officials are to either reduce or outright refuse to renew expiring contracts, according to a Thursday memo from Deputy Attorney General Sally Yates.

According to theWashington Post:

"The Justice Department's inspector general last week released a critical report concluding that privately operated facilities incurred more safety and security incidents than those run by the federal Bureau of Prisons. The private facilities, for example, had higher rates of assaults – both by inmates on other inmates and by inmates on staff – and had eight times as many contraband cellphones confiscated each year on average, according to the report."
The publicly traded companies of CXW and GEO were immediately slashed.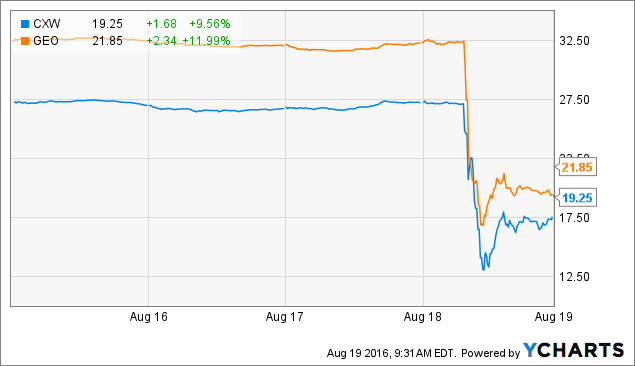 CXW Price data by YCharts
But the company was quick to issue a response later in the day, noting that,
"We value our partners, and we will continue to work with them, both through the types of management solutions we've provided for more than three decades, as well as new, innovative opportunities we've been exploring in recent years in a proactive effort to meet their evolving needs. For example, our real estate-only solution helps government deliver needed facility space in a cost-effective manner while providing its own staffing and management services. We've also greatly expanded our residential re-entry offerings, which help inmates prepare to successfully return to their communities. In fact, this spring we won a re-bid of a Federal Bureau of Prisons (BOP) contract for these critical services. It's important to note that today's announcement relates only to BOP correctional facilities, which make up seven percent of our business."
The company has a conference call scheduled for noon EST on Friday, August 19, 2016 to discuss the development.
The punishment just doesn't fit the crime in this case. A 30% decline in the stock is too much of a handicap for 7% of the company's total business. We think the stock should recover to the $22-$23 range.
The disconnect between the amount of revenue affected here and the price of the stock selling off leads us to believe there is a real opportunity to purchase shares, likely back up to the $22 or $23 level. We are currently long shares and may change or alter our position at any time.
Disclosure: I am/we are long CXW.
I wrote this article myself, and it expresses my own opinions. I am not receiving compensation for it (other than from Stock Plaza). I have no business relationship with any company whose stock is mentioned in this article.