DRA: A Diversified Real Asset Fund For Your Portfolio
Over the last few days we have been focusing on infrastructure and utility related investments. This all started when I decided that it was time to cash in the profits on one of our best performers year to date, the BlackRock Utility and Infrastructure Fund (NYSE:BUI).
Yesterday I discussed our search for replacements for the infrastructure and utility allocation in the article, "5 Utility Closed End Funds You Can Still Buy At A Discount."
One of those funds, and one that immediately shot to the top of our due diligence list was Nuveen's Diversified Real Asset Income Fund (NYSE:DRA).
While I have not personally invested in DRA directly, I do have experience with the open end mutual fund version, the Nuveen Real Asset Income Fund (MUTF:NRIAX) (MUTF:NRICX) (MUTF:NRIIX) (MUTF:NRIFX) which is a 5 star Morningstar rated fund.
Fund Basics
Sponsor: Nuveen Investments
Managers: John Wenker, Jay Rosenberg, Jeffrey Schmitz, Brenda Langenfeld, Tryg Sarsland
AUM: $530 million in Investment Exposure, $358 million net assets
Historical Style: Global Debt & Equity
Investment Objectives: The fund's investment objective is a high level of current income and long-term capital appreciation.
Number of Holdings: 296
Current Yield: 7.55% based on market price, Monthly Distributions
Inception Date: 9/8/2014
Fees: 1.70% + .51% Interest Expense, 2.21% Total, Note, there is currently an expense reimbursement of .59% which brings the total expense down to 1.62%. No guarantees on future expense reimbursements.
Discount to NAV: 12.53%
Sources: CEF Connect, Nuveen, and YCharts.
The Alpha
With any type of actively managed investment it ultimately comes down to is there value created in excess of the fees generated and the risk taken.
When it comes to the special sauce for both DRA and the open end fund versions, Nuveen will point to their extensive management experience in these asset classes and their top down process.
Nuveen Asset Management's real assets team draws upon extensive industry experience in real asset public policy, urban planning, and real estate finance and valuation, and manages over $10 billion in real estate and infrastructure investments.
Sources: DRA & JRI Fact Sheet.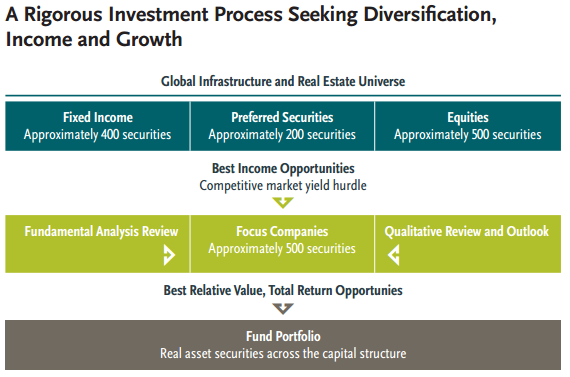 Sources: DRA & JRI Fact Sheet.
DRA in particular may also invest in whole loans and there is no limit on the allocation to debt securities. Furthermore while the fund is going to have US investments, it may invest up to 75% in Non-US securities.
This results in the following asset allocation for the fund.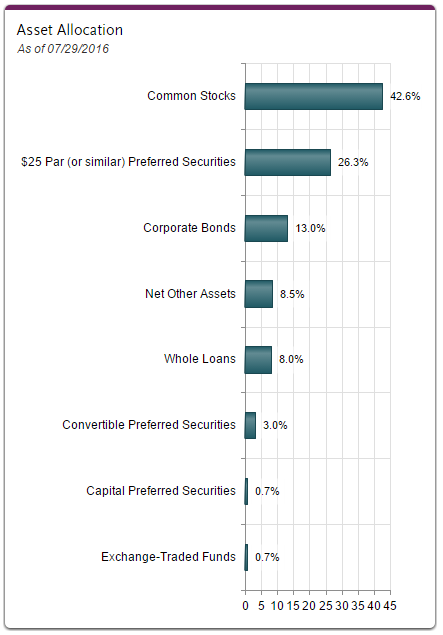 Source: Nuveen.
Breaking this down by sector, we get about 31% allocated to REITS, 28% to Utilities, and the rest to other infrastructure investments.
Finally, the fund is able to employ one of my favorite strategies, covered call writing to generate incremental income.
So how has it done?
The Numbers
Simply put, the fund has done fairly well in providing on its promises.
Year to date, the fund is up 19.67%.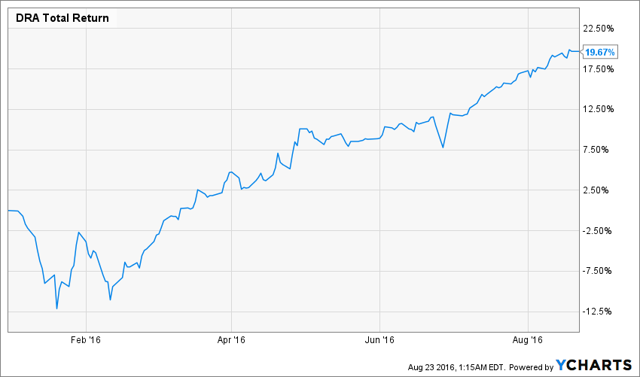 –
Since Inception the fund has made up its IPO load and returned a solid 18.23%.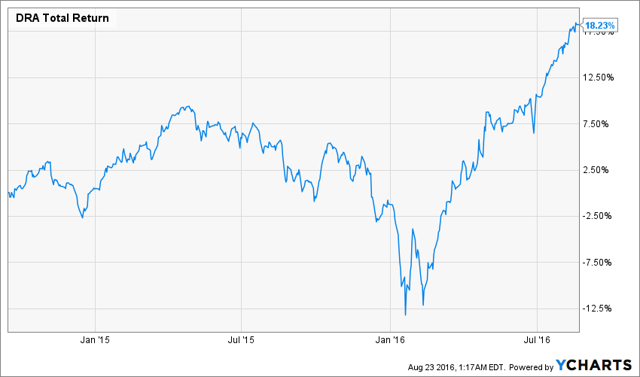 –
The difficult part comes in where it comes to benchmarking the fund of this type because since it is diversified.
While the fund is categorized as a Global Real Estate fund by CEF Connect, DRA holds a sizable utility allocation, a lot of which is fixed income. So let's take a look at the fund versus a few different Indexed ETFs and its open end version.
We take a look at DRA compared to the SPDR DJ Global Real Estate ETF (NYSEARCA:RWO), the SPDR Utility ETF (NYSEARCA:XLU), the S&P 500 SPDR (NYSEARCA:SPY) and the Nuveen Real Asset Income Fund.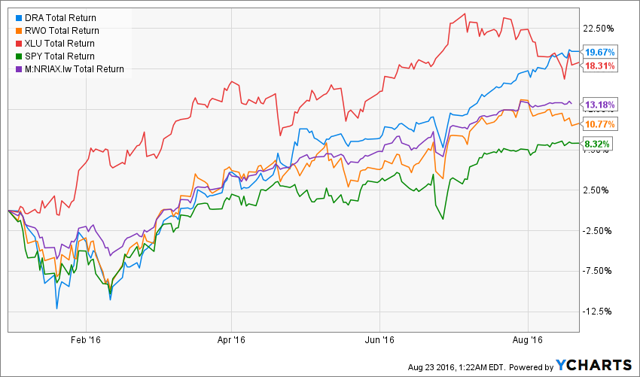 –
Year to date DRA is only bested by XLU, trailed by its open end version, and nearly doubling the returns of the global real estate etf and the S&P 500.
On a 1 year time frame the picture remains similar.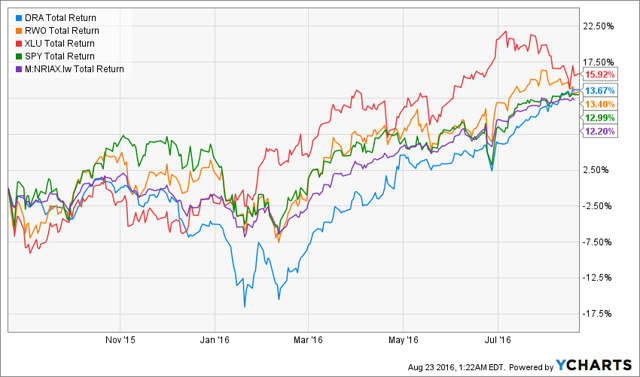 –
Finally over the last 2 years or so, DRA does trail XLU and a lot of it can be attributed back and attributed to the general sell off in the market price of DRA in the beginning of the year.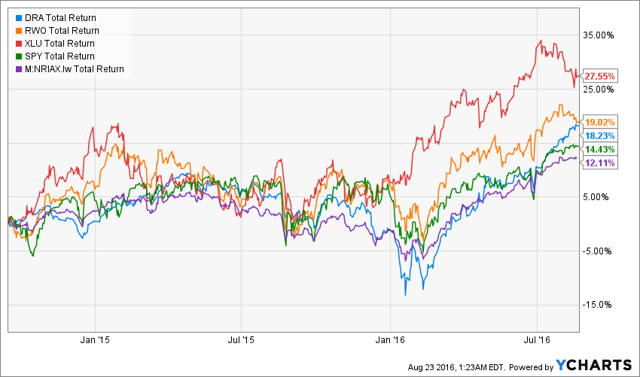 –
Our Take and Bottom Line
Has the fund done well? Absolutely.
Is it fair to compare the fund directly to equity investments? Probably not, especially since a good chunk of the fund is fixed income.
Where we use the open end version of this fund is in our alternative investments allocation, and for income investors, we allocate NRIAX to the Alpha bucket.
Since we have decided to eliminate BUI and have gone through this process, we now see two uses for DRA.
First, because it is trading at a sizable discount to its Net Asset Value, we will likely be replacing the NRIAX allocation with DRA in the majority of the cases where it is prudent for the clients.
Secondly, DRA will be one out of the few funds that will take place of BUI for the time being.
Does it work for you? Does it belong for the long term allocation?
Nuveen has fairly good arguments.
First, Real Assets have outpaced inflation.

–
Source: DRA Fact Sheet.
Secondly, this asset class has a historically low correlation to bonds. Both REITs and Infrastructure investments have a .25 correlation to bonds as per Morningstar from April 2006 – March 31 2016.
Why this fund and this structure?
Nuveen invests across the capital structure which will seek to provide a high level of income and be flexible enough to invest in the best place in the capital stack.
Finally, because it is a closed end fund the main advantages here particularly versus the open end fund version is that DRA is able to employ leverage which increases the distributable income and may enhance total return. Secondly, because there is no need to raise cash to meet redemption requests, the portfolio remains fully invested and does not have to sell investments at inopportune times. This character is also what causes the divergence between the market price and the net asset value.
I hope this was helpful and gives you a few good ideas for your due diligence list. Do you own any of these? Please share your thoughts. Thank you for reading and commenting.
I believe in active management that works, and I am here to help you find those opportunities. Please follow me here on Unique Finance as we look for those opportunities and sort out the good managers from the mediocre. Simply click the "Follow" button next to my name at the top of the article or on my profile page.
Disclosure: I/we have no positions in any stocks mentioned, but may initiate a long position in DRA over the next 72 hours.
I wrote this article myself, and it expresses my own opinions. I am not receiving compensation for it (other than from Unique Finance). I have no business relationship with any company whose stock is mentioned in this article.
Additional disclosure: Maks Financial Services is a registered investment advisor and our Form ADV Part 2 is available upon request. We certify that the opinions and predictions in these articles are our professional beliefs at the time of publication and should not be construed as personal investment advice. Please consult your financial professional to see how anything discussed here applies to you. Furthermore this is not a solicitation to buy or sell any securities. This is not Tax Advice. Please consult your tax professional.