Investors' Overreaction Hands You A Double-Digit Yield Opportunity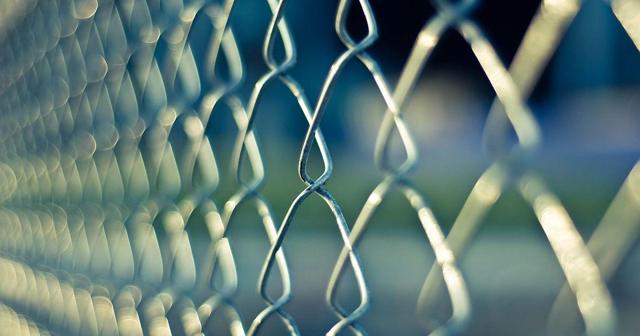 (Source: Pixaby — creative commons)–
Shares of Corrections Corp. (NYSE:CXW) declined 35.5% last Thursday, erasing more than 4 years of gains for investors.
It could have been worse… At one point during Thursday's trading session, CXW hit a low of $13.04, representing more than a 52% decline. Talk about a rude awakening for investors!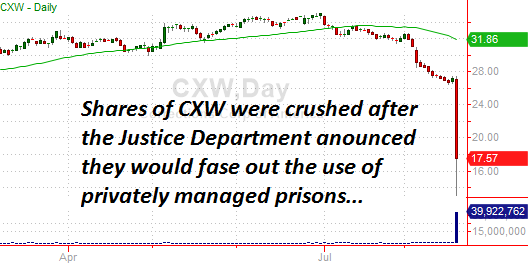 (Source: TradeStation)
The move came after Deputy Attorney General Sally Yates published a memo stating that the Federal Bureau of Prisons should not renew private prison contracts when they expire. That's bad news for CXW, who owns and manages prisons for Federal, state and local corrections departments.
So is this the end of the line for Corrections Corp? Or is it possible that investors have overreacted to the situation.
Let's take a look at how this decision could affect future business for CXW.
Federal Prisons and Corrections Corp
The Federal Bureau of Prisons (BOP) has been in the process of phasing out its relationship with private prison managers like Corrections Corp. So it's a bit strange that investors had such a violent reaction to last week's memo.
In 2013, the Federal government had placed 30,000 prisoners in privately operated prisons like the ones managed by Corrections Corp. But over the last three years, the BOP has been steadily reducing its reliance on these prisons. As of three weeks ago, the number of prisoners held in private prisons had declined by more than half according to Marketwatch.
So the decision to move away from privately managed prisons could hardly be considered a "surprise" to CXW investors.
Moreover, revenue from the BOP only represents a fraction of Correction Corp's actual business. The graph below shows that the Federal Bureau only accounts for 9% of CXW's total revenue.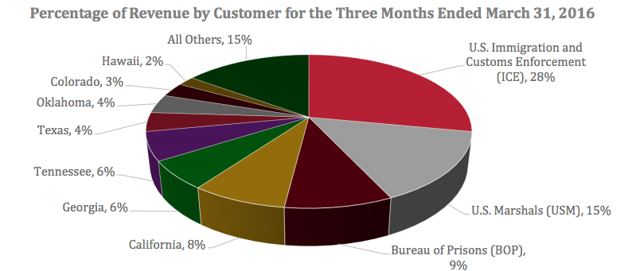 –(Source: CXW Quarterly Report)
While a 9% cut in revenue is certainly concerning to investors, it hardly justifies a 35.5% one-day decline in the stock price.
Corrections Corp is a Real Estate Company
Corrections Corp is in the business of managing prisons for different correctional institutions. But at its core, Corrections Corp is actually a real estate company.
In 2013, CXW reorganized as a Real Estate Investment Trust (REIT). This gives the company an important tax advantage, and also works to investors favor.
As a REIT, Corrections Corp is able to avoid paying corporate tax. This preserves more of CXW's earnings for shareholders. At the same time, REITs are required to pay 90% of income to investors in the form of distributions.
Today, real estate comprises 90% of Corrections Corp's fixed assets. The chart below shows CXW's owned properties in red, making up the vast majority of the company's business.

–(Source: CXW Quarterly Report)
This is important because regardless of what the BOJ decides to do with management contracts, these properties are still owned by Corrections Corp.
So even if the BOJ decides not to renew management contracts with CXW, these prisons still belong to CXW. Presumably, CXW could then lease these buildings back to the BOJ and simply collect royalties for the real estate (without actually engaging in managing the property itself).
This type of arrangement is already being considered according to Corrections Corp most recent quarterly report. In the real estate section of CXW's report, the company stated that it is "pursuing opportunities to expand [its] portfolio of real estate assets leased to third party operators".
Leasing properties back to the BOJ would yield less revenue than management contracts. But expenses would also be lower. The result would likely be less profit for CXW. But the limited profit decline still doesn't justify such a massive drop in CXW shares.
Lucrative Yield Should Attract Investors
Corrections Corp currently pays a quarterly dividend of 54 cents per share. This gives investors income of $2.16 per share – a figure that has been growing since CXW reorganized as a REIT in 2013.

–(Source: CXW Quarterly Report)
At today's price near $19.50, investors can expect a dividend yield of 11.1% as long as the dividend remains stable. It is important to note that Corrections Corp generated funds from operation (FFO) of $2.69 last year. This gives CXW plenty of cushion to continue to pay stable dividends even if FFO declines as a result of the BOJ decision.
Even if CXW cuts its dividend by 9% (the percentage of BOP's total revenue), shares would still yield 10.0% at today's price.
In today's world investors are forced to buy expensive dividend stocks in order to generate attractive yields. But CXW gives investors an opportunity to capture much higher yields while buying shares at a material discount to where they were just a few trading sessions ago.
To be sure, the decision by the BOJ was disappointing. But investors overreacted to the news. Losing a client that makes up 9% of revenue shouldn't cause the stock to drop by 35%. Meanwhile, Corrections Corp continues to own high value property that can generate cash flow through leasing and / or management arrangements.
With a double digit yield, CXW represents an attractive dividend stock in a world of low yields for income investors.
Disclosure: I/we have no positions in any stocks mentioned, and no plans to initiate any positions within the next 72 hours.
I wrote this article myself, and it expresses my own opinions. I am not receiving compensation for it. I have no business relationship with any company whose stock is mentioned in this article.