IPO Quiet Period Expiration: AdvancePierre Foods Holdings
AdvancePierre Foods Holdings – (NYSE: APFH) Buy Recommendation – $25.25 PT
The 40-day quiet period on underwriter analyses that began with the July 14 IPO of AdvancePierre Foods will come to an end on August 23, allowing the firm's IPO underwriters to publish reports and recommendations of the company on August 24.
AdvancePierre Foods is a leading U.S. supplier of fully-cooked beef and chicken items, packaged sandwiches, veggie patties, bakery products and breaded meats. We previewed the IPO ahead of the event.
AdvancePierre Foods' share price could see a significant increase in anticipation of the release of underwriter reports, opening a buying opportunity for experienced investors.
Impressive Early Market Performance
AdvancePierre Foods was priced at $21, at the low end of its expected price range of $20 to $23. The stock opened at $23.80 and closed at $24.01 on its first day of trading. It reached a high of $24.34 on July 18 and a low of $23.51 on July 26. Currently, APFH trades at $23.77.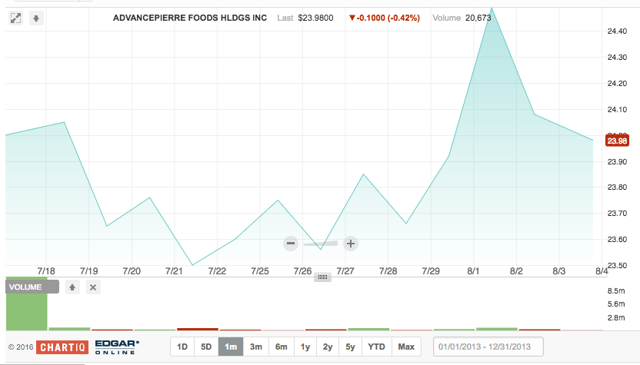 –
(Nasdaq.com)
Business Overview: Leading Food Supplier in the United States
Based in Blue Ash, Ohio, AdvancePierre Foods operates close to a dozen facilities across the U.S. in Oklahoma, Ohio, Iowa, North Carolina and South Carolina.
According to company filings, AdvancePierre Foods is a leading supplier of a variety of prepared food items. The company serves a variety of market sectors including vending, schools, grocery and convenience stores, and wholesale clubs. It operates sandwich assembly facilities, meat processing plants, and bakeries across five Midwestern states. The company was formed from a merger of Advance Food Company, Pierre Foods and Advance Brands.
Its 220,000 square foot manufacturing near Springdale, Ohio, can produce 600,000 pounds of beef, pork and chicken products daily. AdvancePierre also produces close to 2 million sandwiches per day with approximately 2,000 employees engaged in sandwich assembly.
The company has grown through acquisitions, organic growth and partnerships. It relocated its headquarters to a new 25,000 square foot office in 2014, and it expanded its sandwich production by 25 percent in the same year.
Management Team Highlights
CEO, President and Director John Simons has served in his positions since September 2013. His past experience comes from positions at S&C Holdco 3, Gregory Mountain Products and ConAgra Foods (NYSE:CAG). Mr. Simons holds a Bachelor of Arts in Economics and Political Science from Stanford University and a Master of Business Administration from Harvard University.
CFO Michael Sims has served in his position since February 2012. His previous experience includes positions at Chiquita Brands International (NYSE:CQB), Staley Continental, Arthur Young and Ernst & Young. He holds a Bachelor of Science in accounting from Indiana University and is a Certified Public Accountant.
Competitors: Smucker, Nestle, Hormel and Others
AdvancePierre Foods faces competition from larger producers such as ConAgra Foods, Mondelēz International (NASDAQ:MDLZ), J. M. Smucker (NYSE:SJM), Hormel (NYSE:HRL), Hillshire (NYSE:HSH) and Nestle USA. In addition, it faces competition from smaller players including JTM Food Group, Lopez Foods, Devault Foods, Allied Specialty Foods, CTI Foods and American Food Group.
Conclusion: Buy Ahead of Quiet Period Expiration
AdvancePierre Foods' IPO underwriters could indirectly capitalize on the stock's recent growth by releasing positive reports, beginning with the conclusion of the quiet period. The powerful syndicate includes Barclays Capital, Credit Suisse Securities, Morgan Stanley (NYSE:MS), BMO Capital Markets, BofA Merrill Lynch, Deutsche Bank Securities, Goldman Sachs, Houlihan Lokey Capital and Wells Fargo Securities.
We have found above-market returns of nearly 3% in a short window of time surrounding many quiet period expirations, particularly for firms like APFH with illustrious underwriters and positive early market performance.
Now is an excellent time to buy in ahead of any anticipatory price increases as the event draws closer.
Disclosure: I/we have no positions in any stocks mentioned, but may initiate a long position in APFH over the next 72 hours.
I wrote this article myself, and it expresses my own opinions. I am not receiving compensation for it (other than from Unique Finance). I have no business relationship with any company whose stock is mentioned in this article.