IPO Quiet Period Expiration: Line Corp.
Line Corp. (NYSE: LN)
The quiet period for the Line Corp. IPO (NYSE: LN) is scheduled to expire on Aug. 8, 2016. This will allow its underwriters, including J.P. Morgan, Goldman Sachs & Co., Morgan Stanley and Nomura, to issue detailed analyses and reports and to make recommendations on Aug. 9. LN will likely see a temporary boost in its share price after the underwriter reports are released, making it a short-term buying opportunity for more speculative investors.
Business overview: Platform for mobile messaging, communications, content and advertising
Line Corp. is a social media messaging app company that provides a platform for mobile messaging, content sharing, communications and advertising. Headquartered in Tokyo, Line is primarily popular in Japan, Thailand, Taiwan and Indonesia. As of June 30, the company reports it had 220 million monthly active users, or MAUs, an increase of 4.1 percent over the previous year's second-quarter end. In its four largest markets, the increase in the number of MAUs rose by 20.8 percent to 157 million. The company reports that its primary revenue stream comes from the sale of stickers, which are similar to emojis. Social media messaging app users of LN can purchase these stickers to include in messages.
In Q2, Line reports that it generated $27 million from its sale of stickers. This represented a 14.1 percent in revenues from stickers, which was down from its revenue of 16.1 percent from stickers in Q1. The company's revenue percentages from sticker sales have been shrinking in the past few years. In 2014, the company reported growth in its sticker sales of 109 percent, and in 2015, it reported year-over-year growth of sticker sales that had fallen to 39 percent.
Management team highlights
Joining Line Corp. as a director in 2013, Takeshi Idezawa took over as the company's CEO in March 2015. Before joining Line, Idezawa's executive-level experience includes serving as the CEO for Livedoor. Before that, he was a senior vice president for Livin' On the Edge. Idezawa graduated from Waseda University in 1996 after completing his undergraduate degree.
Competitors: Facebook's WhatsApp, TenCent's WeChat and social media app gaming phenomenon Pokemon GO
Line's stated goal of expanding beyond its four main markets may be hampered by such competitors as Facebook's WhatsApp (NASDAQ:FB) and TenCent's WeChat, as we previously stated in our preview of its IPO. In China, WeChat is the only social media messaging app that is currently allowed by the government. In the U.S. and Europe, Facebook is the dominant force. This could cause problems for Line with its expansion plans due to the stiff competition.
The company also has derived a significant portion of its revenues from games. Recently, Pokemon GO was released by Nintendo and has been a phenomenon. This could provide substantial competition for Line's gaming revenue stream, although the company states that the success of Pokemon GO only helps to boost the entire gaming market.
Financial overview: Solid Performance Following IPO
Line showed a strong opening for its IPO, opening at $42.5, which was 27 percent higher than its price range. It has since fallen by around -12.9 percent to settle around $37 per share.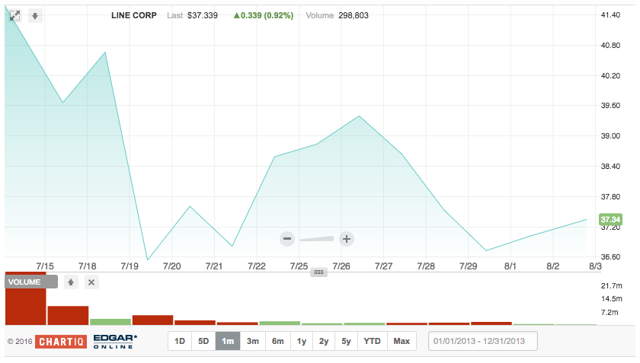 –
(Nasdaq.com)
The company released its second-quarter earnings report for the quarter ending on June 30, 2016. It reported an increase in its sticker revenues of 14.1 percent, which has consistently been declining since 2014 as noted above. For the first half of the year from Jan. to June 2016, the company reported that its advertising sales grew by 76 percent year-over-year from the first half of 2015. Line has identified advertising as a main driver of its future sales.
Conclusion: Consider A Short-Term Buy
Line's potential for growth may be limited, due to stiff competition and difficulty expand beyond its current markets. Sticker revenues have been falling, but its advertising revenues have risen sharply. Line's initial opening soared by 27 percent before settling down. The company could see a temporary boost from its underwriters' reports. We believe that the company may face long-term problems with profitability, but its quiet period expiration may pose a potential short-term buying opportunity for speculative investors, who wish to get in and out fairly quickly.
We have found above-market returns of nearly 3% in a short window of time surrounding many quiet period expirations, correlated with these new reports.
Disclosure: I/we have no positions in any stocks mentioned, and no plans to initiate any positions within the next 72 hours.
I wrote this article myself, and it expresses my own opinions. I am not receiving compensation for it (other than from Unique Finance). I have no business relationship with any company whose stock is mentioned in this article.