Not On Buffett's Shopping List (But A Berkshire Buy Nonetheless): Apple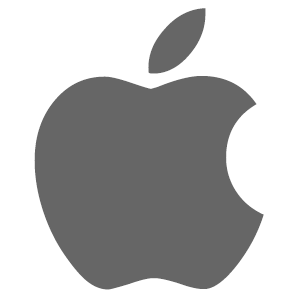 My first article on this topic was well received and lots of people had opinions on what Warren Buffett would buy next. Since then Berkshire Hathaway (BRK.A, BRK.B) released its Q2 earnings and its form 13F, which lists the minority positions that they own in other companies. The latest 13F shows the stocks that Berkshire Hathaway owned on June 30. Comparing this to the previous 13F shows us what stocks they bought and sold during Q2 2016 (April, May and June).
Instead of looking at the form 13F itself, feel free to cheat by going to this page. It's a sortable list of the latest 13F. Another contributor made a good list of all the changes, so in this series of articles I will only go over the most important ones to our goal, answering the question "what will Warren Buffett buy next?"
Lots of people are currently pouring over this list, trying to figure out what secrets it can tell us about Uncle Warren's plans for the future. Stocks that Buffett buys routinely go up in value when his ownership becomes public. It is like a stamp of approval saying they are great companies. If you could figure out what WB is going to buy before he does it (or while he does it) you could earn some pretty big returns. Of course Buffett has some help these days from his two deputy investment managers: Ted Weschler and Todd Combs. Many of the investments on Berkshire's books are theirs, especially the smaller ones.
Apple (NASDAQ:AAPL)
None of the "Big 4" of Buffett's portfolio (Kraft Heinz (NASDAQ:KHC), Wells Fargo (NYSE:WFC), Coca-Cola (NYSE:KO) and IBM (NYSE:IBM)) changed at all. Instead Berkshire Hathaway's largest increase came from an unlikely place: the tech sector. Their portfolio added over 5 million shares at prices that were probably below $100. Due to the "snapshot" nature of the 13F we don't know at what prices these were purchased, but Berkshire Hathaway is not prone to irrational optimism. Apple's prices were below $100 for most of May and June, so it's safe to assume the total investment was a little below $500 million.
Buffett famously avoids tech companies, preferring to invest in things he can understand. This trait helped him avoid almost all fallout from the 2000 tech collapse (Apple fell 71% that year while Berkshire rose 31%). This is one reason why many people originally believed the sudden investments in Apple are the work of one of his deputies (indeed he confirmed it later in an email.). $500 million is not a small investment for you or me, but it is for Berkshire Hathaway. Overall Apple represents only about 1.3% of the total $129.7 billion portfolio. So while it was the largest increase in Q2, it's only a drop in the bucket for Berkshire.
Panic at the Stock Market
It's easy to see why Buffett, or more likely his deputies, find Apple to be a good buy now. For most of this year Apple was trading at extreme lows in its P/E ratio, operating cash flow/earnings ratio and free cash flow/earnings ratio: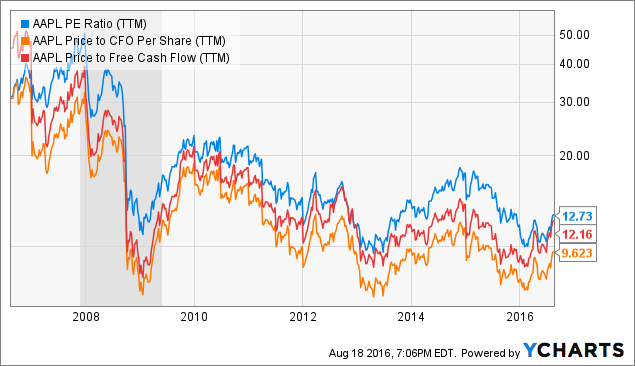 AAPL PE Ratio (TTM) data by YCharts
Q2 corresponded with poor sales figures for Apple, with drops in new iPhone orders leading the headlines. This led to shares crashing to 90 in May, when they had traded above $130 a year before. Since the iPhone was released nine years ago (yes it's that old) Apple's stock shot up +750% until May 2015. From then until its lowest point in Q2 2016, the price dropped 30%. Buffett's deputies used this panic selling period to snap up more and more of the largest public company in the world.
Transition from Tech to Consumer Goods
I believe this slowdown in Apple's growth indicates a turning point in the company's lifecycle. All companies, if they survive long enough, become victims of their own success. A large company is more invested in the Status Quo and can't "pivot" as fast as it used to. Steve Jobs apparently built a pretty good product innovation machine based on how long it took this slowdown to occur. But since Apple is now the largest public company in the world, it was inevitable.
I also believe that one of Buffett's deputies recognized this and used the exit of the high-growth demanding tech investors as an opportunity. As shown by the valuation graph earlier, Apple looks like a good buy, even at its new lower growth rate. I have valued it below under a few different assumptions about the growth rate:
| | | | |
| --- | --- | --- | --- |
| | Conservative | Moderate | Optimistic |
| FCF/Share | 9.276 | 9.276 | 9.276 |
| Years | 10 | 10 | 10 |
| Growth Rate | 0.00% | 2.00% | 4.00% |
| Terminal Years | 15 | 15 | 15 |
| Terminal Growth Rate | 0.00% | 2.00% | 2.00% |
| Discount Rate | 8.00% | 8.00% | 8.00% |
| Value per share | $99.02 | $119.92 | $138.06 |
Even without growing earnings at all over the next 25 years, Apple is still a good value below $100 (where Buffett and co. purchased it). If you assume any amount of growth, Apple becomes an even better deal. They currently fluctuate between $108 and $110, pricing in about 1% growth. And this valuation doesn't even add in the $62 billion Apple has in cash, much of it waiting overseas to be repatriated or reinvested. Apple needs to decide what to do with that as it has swelled greatly over the years.
Buffet's Cash
Speaking of hoarding cash, Berkshire Hathaway is no stranger to it. In fact Buffett's policy is to save it up for a large acquisition. He calls it "loading the elephant gun." At the end of Q2 2016, Berkshire Hathaway had $72.7 billion in cash, $14 billion more than the previous quarter. About $20 to $25 billion is needed for everyday operations and insurance payouts, so that leaves "only" $52.7 to $47.7 billion for a large acquisition. Perhaps, in the future, more cash will be allocated to Apple stock but for right now I think it will remain a smaller position.
The mere fact that cash grew over the quarter in question indicates that nothing particularly piqued Buffett's interest this year. Unless of course Berkshire is currently using their confidentiality exemption on the latest form 13F. The SEC allows influential money managers to withhold public disclosure of a certain investment for a quarter if copycat investors might adversely affect the investing strategy. In short, people copying Buffett's investments drive his prices up, so the SEC lets him buy secretly for a short period of time. As I wrote in my previous article on this subject, Berkshire Hathaway took advantage of this loophole last year when they dramatically increased their stake in John Deere (NYSE:DE).
Because of this gray area, we can't really be sure what Berkshire holds at any given moment. However, when they hid the John Deere shares they were buying that holding went to $0 on the Q3 2015 form 13F. No holdings went to zero on the current 13F, so that clue is not available to us. Because they didn't hide the purchase of Apple shares, and because they didn't buy more, I don't think Warren Buffett's going to take a big bite anytime soon.
To follow articles by Chris, click the "FOLLOW" link at the top of this page. To read more, click on his smiling face.
Disclosure: I am/we are long BRK.B, DE.
I wrote this article myself, and it expresses my own opinions. I am not receiving compensation for it (other than from Unique Finance). I have no business relationship with any company whose stock is mentioned in this article.