Social Media ETF On A Breakout Track
Social media companies may seem like an obvious avenue for growth in relation to the larger technology sector. However, the highly competitive landscape often resulted in a growing chasm between big winners and downtrodden losers in the public equity markets. The well-publicized success of Facebook (NASDAQ:FB) has become the benchmark from which all others are summarily measured.
This dichotomous industry is one reason why the Global X Social Media Index ETF (NASDAQ:SOCL) has tread such a difficult path since its inception. The internal tug of war between underlying components created constant volatility, uncertain trends, and lackluster growth.
Nevertheless, 2016 has ushered in a fresh dose of optimism as this thematic fund recently hit new all-time highs.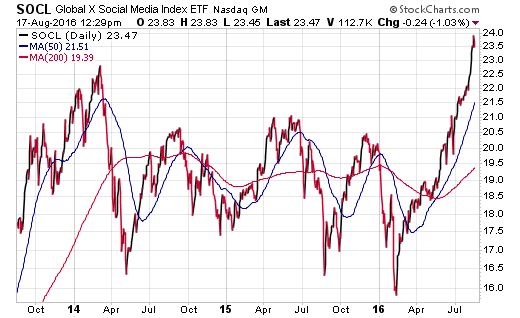 SOCL was released in 2011 as an early entrant in the thematic ETF space. Its concentrated portfolio holds just 30 large and mid-cap social media stocks from around the globe. Companies are chosen and weighted according to their free float market capitalization.
This unique index construction methodology is one that gives greater weight to stocks with a high degree of their shares available to the public. As such, Twitter Inc (NYSE:TWTR) is the largest holding at 10.41% of the underlying assets in SOCL. Facebook is second, followed by Tencent Holdings LTD, and LinkedIn Corp (NYSE:LNKD). Together these four stocks make up nearly 40% of the entire asset allocation.
The recent buyout offer for LNKD combined with the re-emergence of strength in TWTR are two key reasons why SOCL is having such a solid year. This fund is now +18% year-to-date versus +10% in the sector benchmark Technology Select Sector SPDR (NYSEARCA:XLK).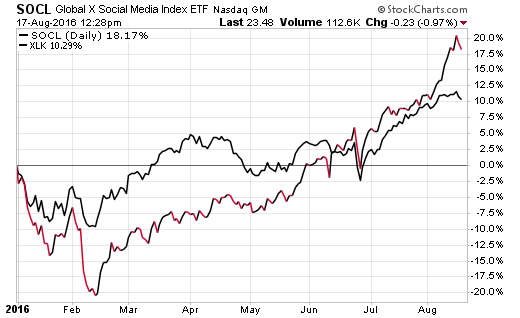 Another large ETF that draws comparisons to SOCL is the First Trust Dow Jones Internet Index Fund (NYSEARCA:FDN), which shares many of the same top holdings.
Keep in mind that just because "most" ETFs are highly diversified vehicles doesn't mean that niche themes can be lumped into the same stereotype. Specialized factions take on a more focused approach. This typically includes fewer holdings and larger position sizes. The end result is that certain stocks have an outsized pull on the overall performance of the fund.
It's also worth noting that SOCL charges an annual expense ratio of 0.65%. While slightly on the high side for an ETF, this modest premium is to be expected due to its unique focus.
The Bottom Line
A fund of this nature is likely to be appropriate as a small tactical theme rather than a core holding. One potential example is to enhance the technology exposure in your ETF portfolio towards some of the largest social media companies in the world. This may be preferable to the hit-or-miss proposition of choosing individual stocks for some investors.
Nevertheless, it's worth keeping in mind that thematic ETFs often carry higher volatility and outsized fees relative to more diversified indexes.
Disclosure: I am/we are long TWTR.
I wrote this article myself, and it expresses my own opinions. I am not receiving compensation for it. I have no business relationship with any company whose stock is mentioned in this article.
Additional disclosure: David Fabian, FMD Capital Management, and/or clients may hold positions in the ETFs and mutual funds mentioned above. The commentary does not constitute individualized investment advice. The opinions offered herein are not personalized recommendations to buy, sell, or hold securities.