Update To PIMCO Closed-End Funds UNII- July
PIMCO recently released their updated UNII information, one of the few companies that does so on a monthly basis. The funds have performed well in the last month with the group of taxable funds rising between 40 bps (NYSE:RCS) and 283 bps (NYSE:PTY) in terms of market price. Many of the popular multisector-based funds continue to build their UNII base with PDI growing to $1.31, up from $0.14 just two months ago in May.
The derivative positions in many of their taxable funds continues to pay off, as they hedge away certain moves in interest rates (namely higher long-end). In many instances, the funds have moved higher in conjunction with higher rates, acting more like an unconstrained bond fund, but with very high yields- one of the benefits of the closed-end fund wrapper and having a sponsor like PIMCO available to manage it.
Below is the table from July: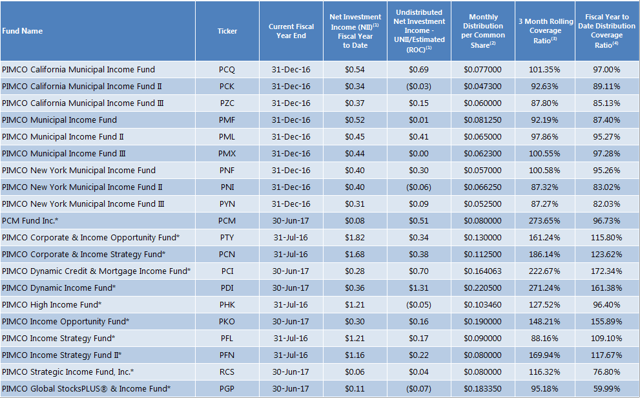 –
(Source: PIMCO)
Compared to June's scorecard: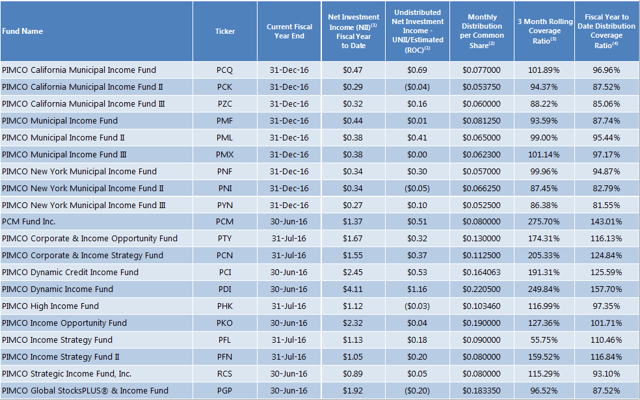 –
Of the non-muni funds, eight saw their fiscal year-to-date coverage ratio increase, while three saw a decrease. Some of the increases have been substantial likely due to the mark of some swaps. The muni funds saw some minor deterioration in their fiscal YTD coverage ratios, consistent with the current 3-month ratios.
Funds Increasing Coverage YTD:
PIMCO Corporate&Income Opportunity Fund ((

PTY))

PIMCO Corporate&Income Strategy Fund (

PCN)

PIMCO Dynamic Credit Income Fund (

PCI)
P

IMCO Dynamic Income Fund (P

DI)

PIMCO High Income Fund (

PHK)

PIMCO Income Opportunity Fund (

PKO)

PIMCO Income Strategy Fund (

PFL)

Pimco Income Strategy Fund II (

PFN)
Funds Decreasing Coverage YTD:
PCM Fund (

PCM)
P

IMCO Strategic Income Fund, Inc ((

RCS))

PIMCO Global StocksPLUS&Income Fund (

PGP)
PCI, PKO, and PDI, some of the favorites by investors, have very strong coverage ratios. Since PIMCO doesn't like to raise distributions based solely on derivative gains, large year-end special dividends (at this point) look almost assured. Based on these numbers, we could potentially see another $2-plus special dividend on PDI. Even PCI appears to be getting into the special dividend game which we expect is likely to be in excess of $1.25.
PTY has been a strong performer year-to-date with the premium rising to over 11%. The chart of the price and NAV for the last year may seem alarming. The spread (premium) has widened rather dramatically over the last six months.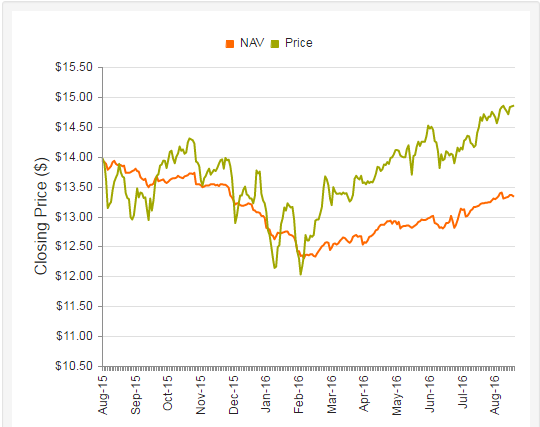 The 11% premium may seem high, especially compared to their 52-week average of 4.4% and having traded below par in February. A three year chart of the premium/discount shows the reality (below). This fund has averaged a 10.3% average premium over the last three years, and 14% average premium over the last five years. The chart shows the current premium in relation to where the fund traded just a couple of years ago. With the momentum in NAV currently, the shares look more attractive today than when it traded at par and the NAV was declining.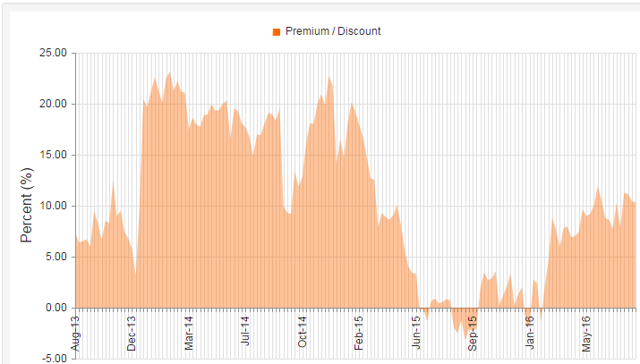 –
(Source: CEFConnect.com)
PIMCO is still the premier fixed income manager in the space- obviously not without risks. We would caution investors from using CEFConnect.com as their sole provider of closed-end fund information. The site, sponsored by Nuveen, is restricted to using US GAAP data, which makes UNII data look "off" when the funds have a significant amount of swaps.
This is footnoted on the monthly UNII report that PIMCO issues.
Income distributions are determined in accordance with income tax regulations which may differ from U.S. GAAP. The character of investment income and the timing of income recognition may be different for certain transactions under the two methods of accounting. Examples of these differences include the treatment of paydowns on mortgage backed securities, foreign currency transactions, contingent debt instruments and swaps (including paired swap transactions). As a result, income distributions declared during a fiscal period may differ significantly from the net investment income (loss) reported on each Fund's annual financial statements presented under U.S. GAAP. A significant portion of a Fund's monthly distributions may be sourced from the Fund's derivative transactions. Some or all of these transactions, such as paired swap transactions, may also generate capital losses without corresponding offsetting capital gains, such that portions of the Fund's distributions recognized as ordinary income for tax purposes may be economically similar to a taxable return of capital when considered together with such capital losses. Please see the Funds' most recent shareholder report for more details.
This is why when you look up UNII on CEFConnect.com, it can look radically different than what PIMCO itself is reporting. Here is the screenshot from CEFConnect.com which reports data from the GAAP financial statements issued every six months: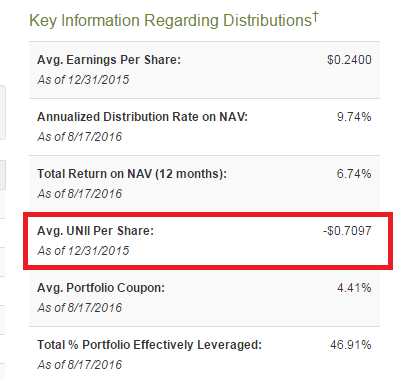 That negative $0.71 UNII figure compares to the July scorecard above which reports $1.31, a $2.02 variance between GAAP accounting and tax-accounting. This can be a source of confusion for many unsophisticated investors who get "scared away" from funds based on seeing that large negative figure.
Conclusion
PIMCO again posted strong numbers in most of their portfolios with excessive coverage. For us, it makes no sense that many investors are reaching for yield in highly levered assets that expose their portfolios to massive downside risks. PDI has been a fabulous investment for investors since its debut in 2012 providing nearly 18% annualized total returns over that period. It is our continued belief that yield-seekers who want high, steady cash distributions should be looking at these vehicles for their portfolios and reducing risks in other areas including REITs, preferred stock, and MLPs.
Disclosure: I am/we are long PDI, PCI, PTY, PCM, PFN, PKO.
I wrote this article myself, and it expresses my own opinions. I am not receiving compensation for it (other than from Unique Finance). I have no business relationship with any company whose stock is mentioned in this article.
Additional disclosure: The commentary does not constitute individualized investment advice. The opinions offered herein are not personalized recommendations to buy, sell or hold securities. As I have no knowledge of individual investor circumstances, goals, and/or portfolio concentration or diversification, readers are expected to complete their own due diligence before purchasing any stocks mentioned. The strategies discussed are strictly for illustrative and educational purposes and should not be construed as a recommendation to purchase or sell, or an offer to sell or a solicitation of an offer to buy any security. There is no guarantee that any strategies discussed will be effective. The information provided is not intended to be a complete analysis of every material fact respecting any strategy. The examples presented do not take into consideration commissions, tax implications or other transactions costs, which may significantly affect the economic consequences of a given strategy. This material represents an assessment of the market environment at a specific time and is not intended to be a forecast of future events or a guarantee of future results. This information should not be relied upon by the reader as research or investment advice regarding the funds or any security in particular.