Zombie Banks: Low Price/Book Ratios Characterize The Walking Dead
It's generally accepted that zombie banks appeared in Japan in the 1990s and are responsible for the inability of the Japanese economy to sustain any significant growth during the last two decades. Currently, there is talk that a large number of EU banks have become zombie banks after the 2008 Credit Crisis. While this is almost certainly true, banking system dysfunction in Europe probably started long before that, and the Credit Crisis only made it worse. The EU's economy has actually been in a persistent no-growth state for as long as Japan's.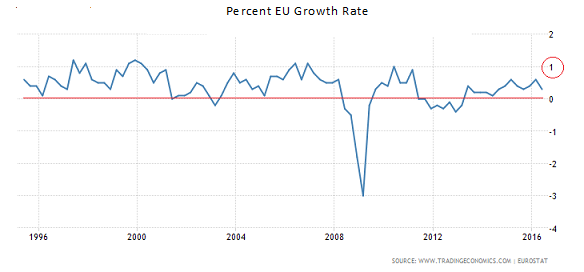 There are slight differences in how zombie banks are defined. The definition I've put together is: "a financial institution that has a de facto net worth of less than zero, but nevertheless continues to operate and meet its obligations because of government support that can include bailouts and other liquidity injections, as well as suspension of rules and regulations that would force the institution into bankruptcy." The term "de facto," which means in fact as opposed to official, is of utmost importance. While there are many zombie banks that have no actual worth, don't expect to find one that reports a negative book value.
Defunct Wall Street firm Bear Stearns provides an excellent example of what happens when a financial institution fails. The company had a book value around $84 a share when it closed its doors in March 2008. The stock last traded at $30 a share (a price/book ratio of 0.35). Some naive market participants were excited at the low price/book value of the company and thought this meant it was a great bargain. This would have been true for a manufacturing company with a product with ongoing consumer demand or a company with valuable hard assets. It isn't true for financial companies, however.
Low price/book values for a financial company can be a sign of impending or actual death. After it collapsed, the Federal Reserve tried to sell the remnants of Bear Stearns for $2 a share (this is how they translated the $84 book value). Big investors sued, and eventually got this amount up to $10 a share. The Bear Stearns book value was considered to be essentially zero once it went under, and this is equally the case for any other financial institution that fails. This includes zombie banks, even though they continue to operate.
Here are some price/book ratios, three for Japanese banks and three for European banks: 0.23, 0.25, 0.40, 0.48, 0.51 and 0.54. Can you pick out which is which? It's not immediately obvious, is it? Here's an easier one, a list of price/book value ratios for three Canadian banks (Canada has a healthy banking system) and three European/UK banks: 0.07, 0.40, 0.42, 1.59, 1.64 and 1.93. That's much easier, isn't it? In both lists, the banks with the lowest price/book value ratios are in Europe. The banks in the first list are: UniCredit (IT:UCG) – Italy, Deutsche Bank (NYSE:DB) – Germany, Credit Agricole (FR:ACA) – France, Mitsubishi UFJ Financial (NYSE:MTU) – Japan, Mizuho (NYSE:MFG) – Japan, and Sumitomo Mitsui Financial (NYSE:SMFG) – Japan. The banks in the second list are: Monte dei Paschi (OTCPK:BMDPY) – Italy, Royal Bank of Scotland (NYSE:RBS) – UK, Société Générale (FR:GLE) – France, Bank of Nova Scotia (NYSE:BNS) – Canada, Toronto-Dominion Bank (NYSE:TD) – Canada, and Royal Bank of Canada (NYSE:RY) – Canada. Statistics are from YCharts.
Bad loans have been piling up in the EU since 2008. Italy is currently ground zero for an emerging EU banking crisis. Its banks hold an estimated $220 billion in non-performing loans (8% of the total, but some observers believe the problem might be as high as 16%). It set up a bad bank, Atlante, in April to handle this issue, but this has failed to stem Italy's banking woes. Spain also has a serious non-performing loan problem. Much larger France, with its rising percent of non-performing loans, could potentially be a far more serious threat. Problem banks, though, are found in even the strongest European economies. Two of the most troubled banks in Europe (outside of Italy) are Deutsche Bank and Credit Suisse (NYSE:CS).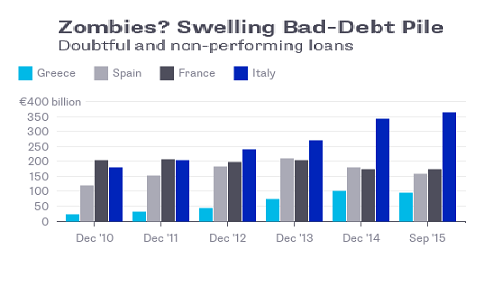 Until some resolution takes place, zombie banks are investments that investors should avoid. Equity holders can easily be wiped out in a restructuring (even bondholders and depositors can take a hit in the EU). As a rule of thumb, banks that have a price/book value ratio around 0.50 or less should be considered to be too dangerous to hold in a portfolio.
Disclosure: I/we have no positions in any stocks mentioned, and no plans to initiate any positions within the next 72 hours.
I wrote this article myself, and it expresses my own opinions. I am not receiving compensation for it (other than from Unique Finance). I have no business relationship with any company whose stock is mentioned in this article.