Can The Fun Last For Acacia And Twilio?
In last Friday's Bespoke Report newsletter – which you can view by starting a two-week free trial to our premium research – we looked at the amazingly strong performance of two relatively recent cloud-related IPOs – Acacia (Pending:ACIA) and Twilio (NYSE:TWLO). As shown in the chart below, Twilio is up 268% from its IPO price 41 trading days ago on June 22nd. Acacia is up even more at +404% since it's IPOd 69 trading days ago on May 12th.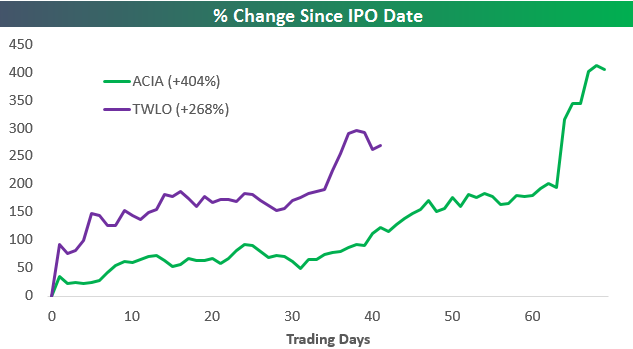 Two other relatively recent IPOs that come to mind when thinking about stocks that surged right out of the gate are Shake Shack (NYSE:SHAK) and GoPro (NASDAQ:GPRO). GoPro went public on June 25th, 2014, and within 67 trading days, it was up 290%. Shake Shack IPOd on January 29th, 2015, and it gained 342% within 79 trading days. For Shake Shack and GoPro, though, the bloom came off the rose quickly. Below is a chart showing the percentage change for all four IPOs – ACIA, TWLO, GPRO, SHAK – from their respective IPO prices. Notably, both GPRO and SHAK hit their peaks after roughly 75 trading days. GPRO peaked after 72 trading days while SHAK peaked on day 79. Today marks trading day 70 for ACIA while TWLO is still just 42 trading days into its life as a public company.
Two things that can slow down hot IPOs are lock-up period expirations and the trading of options. Employees that own shares in IPOs typically have a lock-up period of 180 days where they can't sell their shares. Once those lock-ups expire, it puts more supply of shares on the market. Options don't typically begin trading for IPOs right away either. Once they do, it gives investors an additional way to make negative bets on a stock, whereas prior to the options trading, shorting the stock was the only way to take a negative bet. It's usually very difficult to find shares to borrow short for high-flying IPOs right out of the gate. Both ACIA and TWLO already have options trading, but lock-ups are still in place. ACIA's lock-up period expires in early November, while TWLO's lock-up period expires in mid-December.
Just because GoPro and Shake Shack peaked at roughly the same time following their IPOs doesn't mean that TWLO and ACIA are doomed to the same fate. The companies are in completely different industries in a completely different market environment. We think it does warrant a bit of caution, though, if you're thinking about getting long here.